AKB48 owns your soul... but Konami and Arc System Works try to give you other options.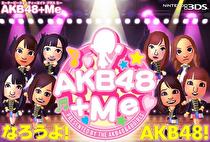 It's another tame week for the eShop in Japan. Arc System Works is providing a demo for their latest release and Konami has a classic release that is sure to please hardcore fans. Here's all that the eShop had to offer in Japan this week:
3DS Downloadable Titles
Hayate no Usagi Maru - Megumi no Tama to Fū Ma no Shirushi – 500 yen
Hayate no Usagi Maru - Megumi no Tama to Fū Ma no Shirushi (DEMO) – FREE
Virtual Console
Super Contra (Famicom) – 500 yen
Video Content
The lone video available on the eShop is a preview for the upcoming AKB48+Me. I'm personally not a huge fan of the group, but the game does look somewhat interesting. Not only is the game shipping with a digital copy, it is basically an RPG-ish game where your Mii is trying to become the next hugely popular member of the Japanese idol group, AKB48. You go on TV shows, compete with other members, and can even make use of StreetPass. It seems to be a pretty well constructed game. AKB48+Me is set to release on October 11 in Japan for 5,670 yen.
Also, last Friday's Dōbutsu no Mori (Animal Crossing) Direct is up in it's entirety on the eShop as a streaming 2D video. The release for this game is also coming up fast, as it's scheduled to release on November 8 in Japan.