TGS 2012 hits the 3DS in a big way this week...as does Denpa Ningen 2, Mega Man 3, and more!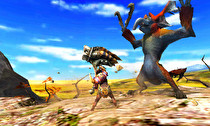 There's a huge amount of content on the eShop, both from Tokyo Game Show related items as well as new games and videos that were uploaded this week. Let's take a look at the complete list of this week's releases:
3DS Downloadable Titles
Denpan Ningen no RPG 2 – 1,000 yen
Virtual Console
Mighty Bomb Jack (Famicom) – 500 yen
Rock Man 3: Dr. Wiley no Saigo? (Famicom) – 500 yen
G-Loc Air Battle (Game Gear) – 300 yen
Video Content
With TGS just blowing through Japan recently, the eShop has seen a few new videos as well as a Tokyo Game Show section specifically featuring games that were shown off at the show. 2D streaming videos were added for the following titles: Ace Attorney 5, Bravely Default, Fantasy Life, Inazuma Eleven Go 2, Inazuma Eleven 1 - 2 - 3, Layton vs. Ace Attorney, Layton and the Azran Legacies, Romance of the Three Kingdoms 12 (Wii U), Musō Orochi 2 Hyper (Wii U), Tekken Tag Tournament 2 (Wii U), Inazuma Eleven Go Strikers 2013 (Wii).
Capcom also included a special look at the Monster Hunter 4 booth from TGS in video form with the producer, Ryozo Tsujimoto. Tsujimoto gives players a look at the great booth that was accessible to lucky players at TGS as well as looks at new monsters, such as Goa Magara, a black dragon-like creature, and a monkey-like creature called Kechawacha. This three minute informational tour of the TGS booth is available streaming in 2D on the eShop, while a 3D trailer for the game is available for download.