R.I.P. SpotPass TV.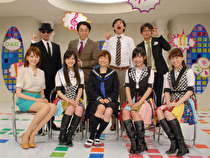 We have a few different bits of video and game content this week, as well as the end of an era. Yes, as all of you know (right?!), today marks the last day of Itsu no Ma ni Terebi (SpotPass TV) in Japan. Before I get to that, let's take a look at everything else that hit the eShop this week:
Virtual Console
Twinbee da! (Literally, "It's Twinbee!") Game Boy – 400 yen
Video Content
In terms of video content, there really wasn't much released this week. There was a short video previewing the upcoming Level-5 game Little Battlers eXperience. The video showed some sharp visuals, as well what I'm presuming to be clips from the anime. Atlus put up a new video giving some details about Etrian Odyssey 4, which lasts a little under two minutes and shows the different jobs in the game, as well as some in-game footage. Both games release in Japan on July 5.
Software Impressions/Farewell to SpotPass TV
SpotPass TV is officially dead. Since the inception of the program last year, I have spent around 31 hours of my life watching a little under half of all the aired episodes. In the past year, there has been a wide variety of programming on SpotPass TV, ranging from funny and entertaining to disturbing. Just this past week, my favorite piece of programming from the show, called Daily Tobidas (a comedy sketch program), had an hour-long live special streamed over Nico Nico Video. When it was all said and done, nearly 19,000 people tuned in to check out the broadcast, which was full of laughs, singing, and tons of great jokes. The one-hour special highlighted the great aspects of the show and brought it up to a new level. Aside from Daily Tobidas, I'm definitely going to miss the wackiness that was the 3D Dating Show, which was at times discomforting, but usually pretty humorous in a ridiculous sort of way. I mean, hey, on my last date today, my "girlfriend" said she wanted me to meet her parents. Is that progress or what?!
On a serious note: In Japan now, the only proper video service for the 3DS is Nintendo Video. While Nintendo Video does have some fantastic content here in Japan, there is just something about getting new videos every day (as opposed to at random intervals) that was great to have as an option. Was all of the content on SpotPass TV worth paying the actors and production team? Probably not, and perhaps that's even one of the reasons why the show was pulled off of the platform. Just thinking that only 19,000 people showed up to watch the Daily Tobidas made me realize just how potentially small the audience for SpotPass TV in Japan really was. There probably couldn't have been more than 100,000 people who had the application, let alone used it to watch videos. Who knows?
Only in Japan will you be able to see some of the kinds of content that was on SpotPass TV. Dainty girls fighting in pools, train rides around Tokyo, and even 3D dates for the socially inept. These are the kinds of things that we just won't see on Nintendo Video in any region. It's a damn pity to see SpotPass TV go. Rest in peace, and may we one day meet again!