I think there's something in my eye...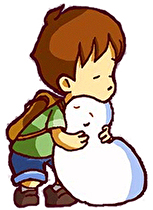 The connection's there in the wording: A Boy and His Blob. Not some blob, or a passing blob, or that blob from down the street. His blob.
Even if the title of David Crane's imaginative 1989 NES game is more a clever turn of phrase than a direct description of friendship between a small, backpack-wearing child and a little white something from outer space, the tone of WayForward's 2009 version perfectly encapsulates the latter. While the original game portrayed the blob as an odd, shapeshifting tool, the Wii version goes out of its way to create just what the title suggests: a tender relationship between a young, adventurous child and an innocent, squeezable alien.
Much of this concept comes through in the game's visual representation of the two characters. In the soft, hand-drawn aesthetic of the game, the boy is visibly young—dressed in a t-shirt, shorts, and a backpack, he's clearly old enough to have the urge to explore on his own, but inexperienced enough to be helpless. When he finds the blob, though—a soft, ghost-like globule of a thing—he is the one to coax it over after they frighten each other away, a moment that establishes the blob as sort of an amorphous, age-equal version of the human character. In some ways, the creature is a similarly helpless, codependent partner to the boy—who is really just a boy.
From there onward, it's evident the blob is a companion in travel, not just a functional piece of luggage. The boy trots along, arms swinging with the anticipation of adventure and discovery, while the blob loyally bounces along close behind. Bound by a wordless connection, both are content and immediately fulfilled by the company of the other. The boy's vocal tone when addressing the blob—another humanizing act—is the kind of soft, faux-authoritative command a child might shout to a friend when he wants to share or be joined in something exciting. Hey, come look at this—me and you. Ready? This way!
Then there's the hug—the heart-melting and composure-breaking capstone of the relationship. There are tiers of hugs, and it's easy to discern those performed out of formality from the genuine article. In A Boy and His Blob, we're treated to the latter. When prompted, the boy bends down, and the blob stretches up. They meet and embrace in a multi-stage squeeze, the kind where, even after establishing contact, you keep going in deeper, wrapping yourself around the other person (or blob) to punctuate the emotion. The mid-nuzzle sound the boy makes is similar to the muffled murmur of a child burying his face in a favorite stuffed animal. Or a really good friend.