A new demo, Wario, and more content arrive this week in Japan.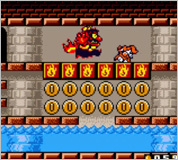 A pretty big variety of software hit the Nintendo 3DS eShop this week in Japan, including a new demo and a new Virtual Console game. Here's what was released this week:
3DS Downloadable Software
Dynasty Warriors VS Demo – FREE
Simple DL Series Vol. 3 THE Mishitsu kara no Dasshutsu ~ Serebuna Gōtei hen (The Celebrity Mansion Escape) – 500 yen
Virtual Console
Wario Land 2: Nusumareta Zaihō (Wario Land II, Game Boy Color) – 600 yen
DLC
Theatrhythm Final Fantasy Songs (4 total) – 150 yen each
Video Content
Nintendo continues with the Fire Emblem content this week, showing off more of the game's features this time, including Dual Battle and even the marriage aspect of the game. Also included this week is a video compilation of the two latest 30-second commercials for the game. I've included the nearly five-minute long video of Dual Battle and Marriage below.
A hodgepodge of other videos hit the eShop today as well, including a collection of commercials for Kingdom Hearts 3D, a commercial for a 3DS TOEIC Test software title, a video showing samples of the latest DLC for Theatrhythm, and the March downloadable software recap video showcasing all the downloadable software that was made available on the eShop throughout the month of March.
Software Impressions
The Wario Land series has always interested me. Growing up, I did not get to play the games (sans a few brief trials of the Virtual Boy version at a Toys "R" Us) and always felt like I was missing out. Fast forward to the present, where I have had the chance to dip my toe in the series, as I own the Virtual Boy Wario Land as well as Wario Land: Super Mario Land 3 on the 3DS Virtual Console. Picking up Wario Land II just seemed like a natural thing for me to do.
Wario Land II looks and plays wonderfully. While the original Wario Land title on the Game Boy has somewhat floaty controls, Wario Land II feels a lot more accurate and easier to control. There are also tons of hidden areas that contain coins, secrets, and treasure. From what I've played of the Wario Land series to date, this definitely seems like an obvious high point and is simply a better game than the previous entries in the series. Unfortunately, if you don't have a Japanese 3DS, you might be waiting a little while for this game.