Regardless of which Mario Kart game is your favorite, we can agree that the Blue Shell stinks.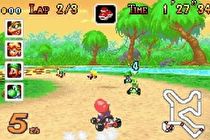 Because we can't get enough Mario Kart in our olives, this week's Fave Five celebrates the prestigious multiplayer franchise. James Charlton has compiled his top five Mario Kart games.
5- Mario Kart 64:
After being initially disappointed with this "sequel" to one of my favourite SNES games, I grew to appreciate the four-player battle mode and racing with friends. What the tracks lacked in character, they made up for in variety. No longer were tracks limited to a few themes, they were set in various places in the Mushroom Kingdom, even places we'd never seen before like in front of the Princess's castle! The battle mode felt so different from the original game at the time that it took me a LONG time to adjust, shooting red shells from high places to hit people on the ground never seemed to work well enough for me, but the new items such as the spinning red/green shells really added a lot of strategy which I liked and eventually got used to. Power-sliding got a great upgrade and took skill, and a lot of practice, to get right—nothing is more satisfying than seeing that smoke change colour as you glide gracefully around a long corner. Not a game I go back to, but one I have fond memories of playing with high school friends after we got bored of Goldeneye, good times!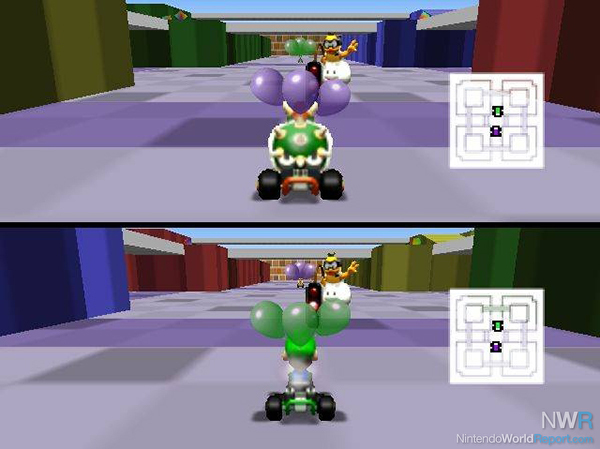 Mario Kart 64


4- Mario Kart Wii:
With the Wii's lackluster (at best) online structure, I didn't have high hopes for anything with Mario Kart when it came to the console, but I ended up being pleasantly surprised. Not only could you race online with friends, you could exchange ghosts easily with them, see rankings on each track of who had the best time, and even go online with someone sitting next to you. The online part of it also extended the life of the single-player game by supplying weekly tournaments, which reused assets from the main game in new ways. To this day this is the only use of Nintendo Connect 24 I've ever had; the blue light flashing on the Wii meant I had a new ghost challenge or a new tournament to try.
Another thing I love is being able to download and view ghosts from the top players in the world, letting you in on their secrets—something bizarrely missing from MK7. All this kept me playing the game every week for the best part of 2 years, something no other Mario Kart has managed to do to this day. The controls are great for bringing in new players. My wife, for example, loved playing with the wheel—finally, a racing game that responds to the controller being moved left and right! (Anyone with a little sister or girlfriend knows what I'm talking about!) For me, this game got the balance between family friendly and Mario Kart diehard just right.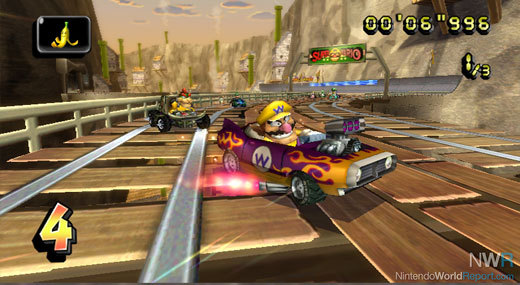 Mario Kart Wii


3- Mario Kart: Super Circuit:
After sampling the game through a download play session with a friend's version, I quickly decided to get the game myself. The moment I played it I thought, this is the true sequel to Super Mario Kart I've wanted. It was literally that game plus a whole lot more. The new tracks were awesome, and it was faster, smoother, and more visually pleasing than the SNES one, while still sticking to its Mode-7 roots. My power-sliding skills from the first game could quickly be adapted to Super Circuit; the speed and accuracy with which you can slide around a turn-heavy track like Luigi's Circuit is so satisfying and fun, yet still lets you feel like you're totally in control. The four-player system link up is so much fun; even when my friends at Uni didn't have copies of the game, we could still each play with Yoshi only. You can also turn off items and just have a straight up race, or keep them on and enjoy blasting each other with shells. For any old school guys still out there, this is one of the purest skill-based Mario Kart games available. Anyone who says the controls are loose doesn't know how to play the game. God bless the Ambassador program!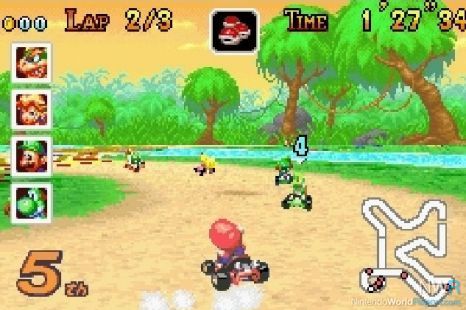 Mario Kart: Super Circuit


2- Super Mario Kart:
This game plays a huge part in my gaming history. After Super Mario World, it was my most played game ever during the 16-bit era, mainly thanks to friends who also had the game and were equally good at it. Before the invention of the Internet, we'd compare track times, set up tournaments, swap shortcut tips, and battle each other at any opportunity we could. Mario Kart Wii is the closest I've come to recapturing that feeling, thanks to online, but nothing beats the actual real life banter that happens playing this game even now. Sure the power sliding is limited by today's standards, but if you get into the zone, you can hop and glide your way around the track like some kind of go-kart ballerina. Also if you're a fan of retro game music, pretty much every song in this game is still a classic. (Just to let you all know where I'm coming from, I also prefer Donkey Kong Country to Donkey Kong Country Returns and Mario World to Mario 64.)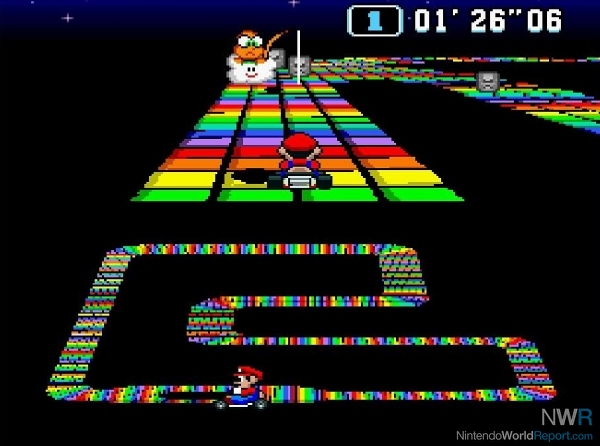 Super Mario Kart


1- Mario Kart DS:
This game gets my number one spot because of its divine combination of everything I love about the other four games on the list—all in one game.The power sliding is a perfect blend of SMK and MK64, the tracks are an eclectic mix of exciting new tracks and brilliant old ones, and the local multiplayer is the most fun and least hassle to set up. Four systems, no cables, and one copy of the game are enough, and you're ready. Sure, online is filled with cheaters, but why play with unknown weirdos when you can play with friends anyway. Mario Kart 7 does some of this a lot better for sure, but with the amount of things taken OUT of the game, I can't include it in my favourite five. The mission mode is a work of genius, taking elements of the single-player game and making them into bite-size objectives, all of which can help you become a better player. Let's hope it makes a comeback in the next iteration.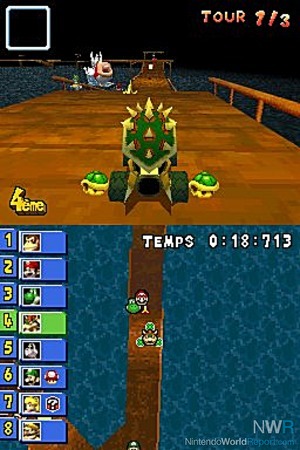 Mario Kart DS