Nintendo's resolution may not be to lose weight, but they are interesting regardless!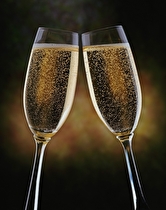 HAPPY NEW YEAR EVERYONE!
As we post this latest edition of Staff Sez, 2011 is on its last days, and the whole world is looking forward to ringing in 2012 in massive style and grace... for the most part. 2012 promises to be a big year. Some think it might be the end of humanity as we know it, but the new year is looking to bring a lot of new things, like promising movies like "The Avengers" and "The Dark Knight Rises", the London Olympics and the upcoming elections. But most importantly, it will be the year in which we leave behind this current generation of games and move onto the next one. Nintendo is one of the biggest as they have already shown what the future awaits us with the Wii U.
With that little thought in mind, the NWR staff members began to ponder answers to the following question...
What do you think Nintendo's New Year's resolutions should be?
The answers are as follows...
Neal "Wants a salary raise in the new year" Ronaghan said...
"Make sure Wii U has a damn good launch and a reason to exist."
Zach "Wants to see the world in the new year" Miller said...
"Make sure that, when you release the WiiU, it's fully functional."
Josh "Wants improvement in his love life" Max said...
"To continue thinking about how to make good games great."
Carmine "Wants a better life style in the new year" said...
"Multiplayer Wii U tablet support or bust."
James "Just wants a pony in 2012" Dawson said...
"Give us a universal account for the 3DS and Wii U."
James "Doesn't believe in new year's resolutions" Charlton said...
"Get online right this time, nay, flawless. Third time lucky!"
Matt "Does the new year's rituals for the fun of it" Walker said...
"Support Wii U strongly out the gate, provide fresh experiences."
Minoru "Gets excited when the ball drops on New Year's" Yamaizumi said...
"Provide games for Wii/Wii U Virtual Console Every week."
As you can see, everyone had one thing in common in their answers: the Wii U. 2012 is believed to be the premiere year for Nintendo's latest console, and it promises to move forth with the innovation seen on the Wii but with the advancements in technology gamers want and expect out of the system. Nintendo has a lot to ride on after the slow start of the 3DS (though it has been doing great in the last couple of months), so all eyes will be on the Wii U when it premieres at E3 and arrives on store shelves. And you can bet we will be there to cover it all.
Happy new year from all of us at Nintendo World Report, and may your new year wishes come true and bring forth lots of great Nintendo games!