The eShop updates a day early in Japan this week.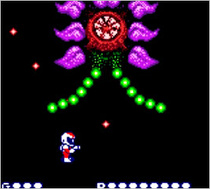 With tomorrow being Kinrō Kansha no Hi (or Labor Thanksgiving Day) in Japan, the eShop is also making an excuse to miss updating tomorrow due to the public holiday. That still doesn't mean Nintendo wasn't set to deliver the goods today. Here is a list of what hit the eShop this week in Japan:
3DS Downloadable Titles
Ginseiigo 3D - 800 yen
Virtual Console
Metafight EX (Blaster Master: Enemy Below - Game Boy Color) - 600 yen
Video Content
Video content was extremely sparse this week. The eShop did, however, have some new commercials uploaded from The Legend of Zelda: Skyward Sword and the upcoming Mario & Sonic at the London 2012 Olympic Games. Itsu no Ma ni Terebi and Nintendo Video have also received their usual updates.
Software Impressions
For those unfamiliar with Metafight EX, or Blaster Master: Enemy Below, it first appeared on the Game Boy Color in 2000 and is part of a larger series that started in the late 1980s. This particular entry in the series is a run-and-gun platformer that puts you in the role of the character Leonard. Using his all-purpose vehicle, the Metal Attacker, the player battles in an effort to save the Lamda Galaxy from impending doom.
I was really thinking about picking up either Bionic Commando from last week or even Metafight EX from the releases this week but have to face an unfortunate truth — I have almost run completely out of room on my 3DS SD card. This speaks very well highly to the amount of content that is available in Japan, but also makes me wish I would have done somthing about this sooner. Therefore, I am planning on picking up a 32GB SDHC card very soon. The main thing that ate up the storage on the included SD card are all of the videos from E3, TGS 2011, and the Nintendo Direct Conference. 32GB should be enough to tide me over for at least another year's worth of content, right?
In the meantime, I am currently working through my backlog of games and on getting reviews ready for Ikimono Zukuri Crea-toy (Freakyforms: Your Creations, Alive!), Hiku Osu (Pushmo) and a few other 3DS downloadable titles.