Nintendo has hit the road with a wealth of unreleased games.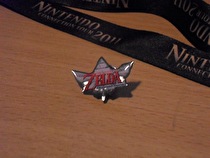 The time had finally come again for Nintendo Australia to hit the road and bring games to the eager masses at shopping centres around the country. This year was more exciting than the last couple, mainly because Nintendo was showing off new games that won't be available for quite some time. The games that Nintendo showed included Zelda: Skyward Sword, Super Mario 3D Land, Mario Kart 7, Kid Icarus, Kirby's Return to Dreamland, Mystery Case Files and some of the recent releases such as Starfox 64 3D and Zelda: Ocarina of Time. There was also a Wii set up to play some old Zelda games like Ocarina of Time, Majoras Mask, and A Link to the Past.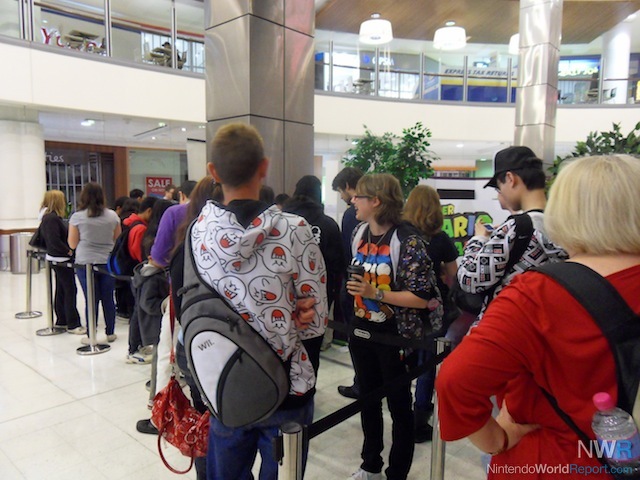 Only an hour to go
I arrived at the location about an hour before it started in order to ensure that I was one of the first 125 there, which meant I would receive a special lanyard and possibly some other goodies that they usually hand out at these events. The line was already forming, and by the time they started letting people into the kiosk area the line had grown to be quite long. To begin with they were only letting in people bit by bit, with a 15 minute limit before they had to vacate the area to let more people in. There was a smaller area to the side though that you did not have to line up for. Eventually there was no time limit or line.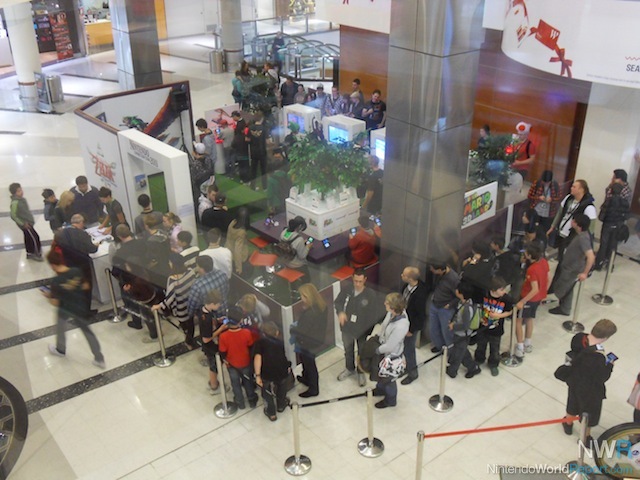 Where's Toad?
When I finally got inside the kiosk I went straight up and played a bit of Skyward Sword. I mainly was just getting used to the new controls and running around hitting enemies. Everything felt fairly good, but I was finding the pointer to be sluggish, which was probably due to the environment that I was playing it in. It didn't take me too long to adjust to the new controls for sword fighting and switching items. I was somewhat annoyed by the fact that there is no roll function at all now, instead, Link will run when you press the A button. Up until I had played it, I was under the assumption that the new dash move was in addition to the standard roll. It's not a big deal, and I know when I play it more I will not even think about it. The little tweaks and improvements to the gameplay, such as selecting/changing items and not having to stop and drink a potion are welcome changes though.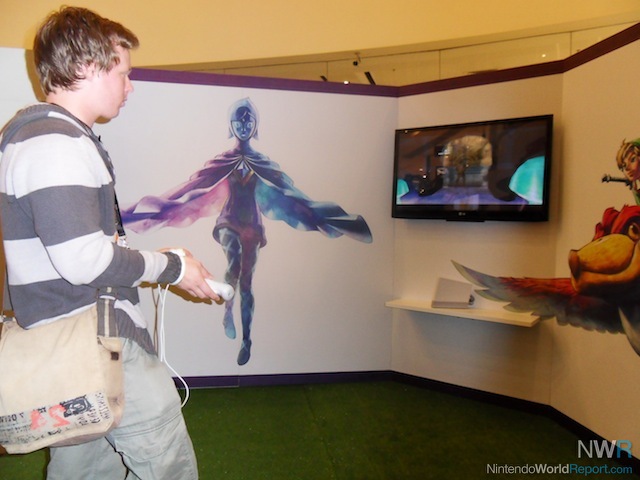 Finally trying out Zelda
The next game I played was Mario Kart 7. There is not a whole lot to discuss here, it's Mario Kart, it's great as usual. I observed that the game is very smooth. I also noticed that the first couple of times my kart was about to go underwater I felt as though I had taken a wrong turn just before I plunged into the depths and kept going. It was strange because I am so used to water being an instant end to where I was going. The gliding however was fun and felt very good, I think I enjoyed the gliding more than the new underwater stuff. The 3D effect wasn't as impressive as I thought it may have been, somehow it felt shallow or flat and it wasn't nearly as good as say Starfox or Ocarina of Time. I can see myself playing the game more in 2D than 3D, and I usually play 3DS with 3D on all the time. The game looks very fun though, and that's what counts.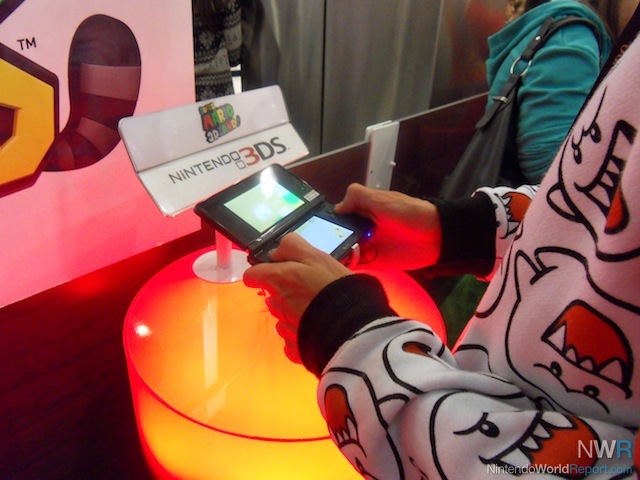 Super Mario 3D Land setup
Super Mario 3D Land was one of the games I was most looking forward to trying. I came away from it, not fully knowing if the game is going to end up being fantastic or just ok. The controls were fine, but I think the gameplay concept of merging 2D and 3D Mario is a mistake. From what I played the game isn't as fun as either New Super Mario Bros, or either of the Galaxy games. Its mishmash of styles doesn't make the game more fun, and the stereoscopic 3D doesn't really help at all with allowing you pinpoint jumping accuracy. Nintendo are trying to appease fans of both types of Mario gameplay at once, and neither style is as good together as they are on their own. I am still looking forward to the finished product and seeing if there are any major changes. Maybe playing the levels from the start of the game will give a different impression.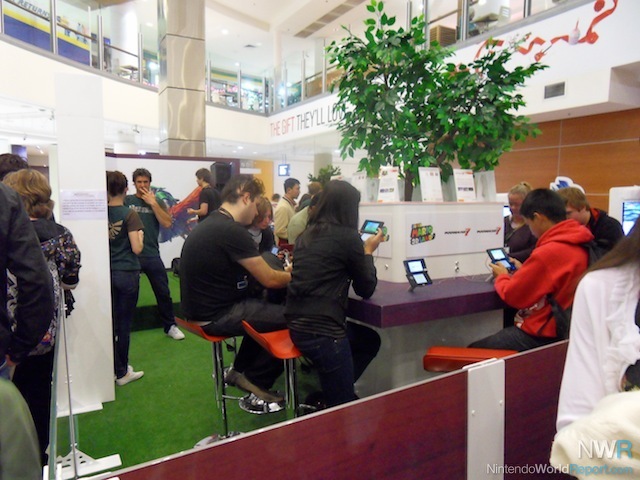 3DS Area
Later in the afternoon the organizers held a couple of trivia rounds. Questions ranged from Zelda to Pokémon, and prizes were awarded for correct answers. The best prizes were some really cool Zelda themed T-Shirts, which sadly I wasn't lucky enough to win. I did manage to get a Zelda Lanyard, and a cool Skyward Sword pin, which in a few years might be worth something.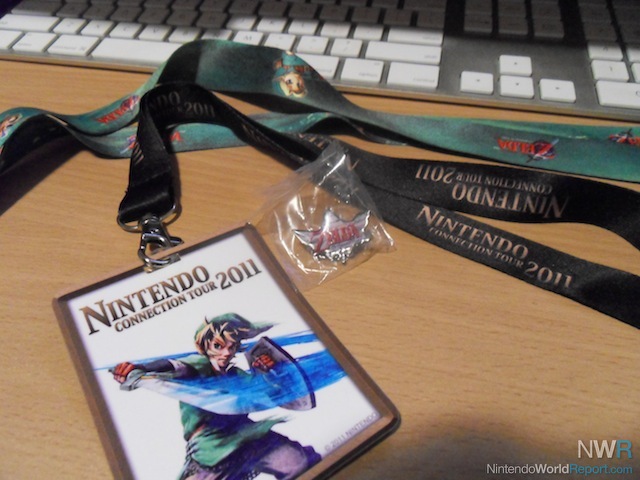 Prizes!
The Connection Tour was once again a fun day out, made even better by the presence of the new games. The trivia and prizes were a fun distraction and I hope Nintendo does more of these tours next year, maybe even to promote the Wii U before it launches.