You could have fun playing the game, but was Nintendo willing to sell it to you?
Nintendo's Mario Kart Wii launch event occurred at the Nintendo World Store in New York City on Saturday, April 26. It was advertised as an opportunity to both get some hands on time with the game and buy yourself a copy a day early. Jason Priestley added a bit of star power to the whole event for all of the 90210 fans in attendance.
I happened to be downstate on Saturday and while I had to leave for my flight by 5pm, I felt that only missing the final hour wouldn't be a big deal. Doing an initial walk by of the store at around 12:30 in the afternoon, the preparations had begun. There were Kart shaped Wii setups going up all over the place, both inside and outside the store. A sign was posted stating that sales of the game would be going on from 4-6pm. I was confused, but assumed that I had read the original announcement online incorrectly, and left the area to see some sights.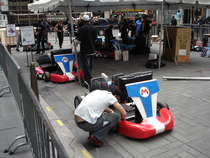 Wiring up the kart-shaped stations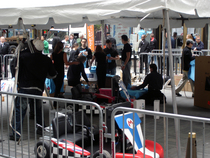 One of many tents
At around 3:30pm I returned and realized that the event had been going on for quite some time. It was obvious that the actual gameplay did begin at 2pm as the online announcement had read, but actual sales of the game weren't supposed to begin until 4pm. A line had formed in front of the store and was about 30 people strong at the time I walked up. Slightly confused, I checked out all of the events going on. Someone dressed as Mario was out in the street, dancing and doing other silly things. They were hosting all sorts of mini tournaments, giving away free t-shirts, bumper stickers, and air fresheners to the participants. Overall, everyone seemed to be having a ton of fun. It was crowded, but not packed. There was definitely a good amount of buzz in the area, which is especially impressive considering the NFL draft was going on mere blocks away.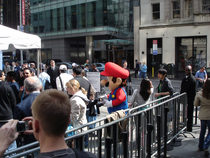 Mario is making kids happy!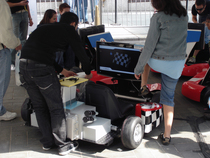 Playing some Mario Kart in a kart!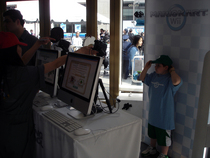 Posing for a license shot
It became apparent that the best way to participate in these events was to get in line, so that is what I did, at around 3:45pm. This was in what appeared to be the only line, directly in front of the store. A mere seconds after I stepped into line, others came up behind me and asked if this was the line to purchase the game. I couldn't say anything other than "I think so," in response. As time passed, occasionally five or six people from the front of the line would be brought inside. Whenever we could flag a World Store employee down, we all asked them, "Is waiting in this line what you have to do to buy the game?" All of them said yes, until the one that seemed to be running things. He explained that this line was to play the game. I then explained to him that what I would like to do is take some pictures of people playing the game, and then buy a copy of the game for myself. He said, "Well, in order to buy the game you have to play it," and walked away. The prospective purchaser behind me joked "You're forcing us?!" at his back as he left.
While I was in line outside, Jason Priestley finally made his appearance. Cameras swarmed as he sat down in one of the fake Karts to play the game. This all happened right behind the main front window of the store. Random passers by gawked at the cameras in hopes of figuring out who the famous person was, but were quickly pressed along by one of the random security guards. After what seemed like a single race, Mr. Priestley quickly got up, walked out the front door, and headed away, signing a couple autographs as he went.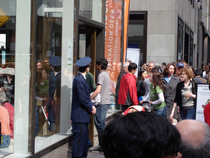 You can't look in this window!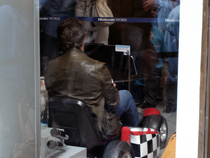 Jason Priestley is playing in a kart too.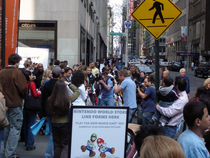 Signing some autographs on the way out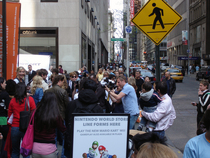 And... he's off
I was getting closer to the front of the line, when the man running things came out again. This time I asked him a simple question. "Will standing in this line guarantee me a copy of the game today?" His answer was somewhat alarming.
"We have plenty of copies of the game for everyone who wants them, but we can only move so many people through the playing areas. Since you have to play the game to buy it, you may not get there in time." Talk about puzzling. They were going to intentionally keep people from actually buying a product because they didn't get to demo said product first? Huh?
At around 4:30pm, after waiting in line for about 45 minutes, I was let into the store. "Hurray!" I thought as I was inside the store, ready to play and buy the game with a full half hour before I had to leave for my plane. Sadly, the employee running things quickly told me "Just go up those stairs and wait at the end of that line." What? Another line? I went and stood there. At this point I started talking to every employee I saw, mentioning that I didn't want to keep others from playing the game, I just wanted to take some pictures and buy myself a copy. This is when I started to realize that most of the employees were just as confused.
I kept getting responses like "I don't get it either, but I have to do what I'm told." As I looked around the building, I noticed that the actual line to purchase the game was fairly short, but they were checking for these special bracelets with a time on them. You had to have a bracelet with a time that was already passed before they would sell you a game. The result? A bunch of cashiers standing around when they could be selling copies of Mario Kart to people. After a quick count of the people in front of me in this second line, I decided that it would be close, but I should get to the front of the line, play the game, receive a bracelet, and purchase the game all in time for me to make my flight.
The line goes down the stairs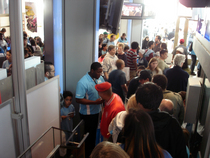 There is actually a line there.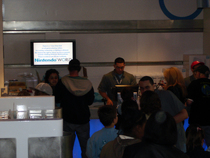 Checking out... the ultimate goal
Finally, I was told to go sit in the tiny fake Kart and play the game. I crammed myself in and had a nice race against the person that had been behind me in line this whole time. It was fun, as long as my knees weren't getting in the way of the action.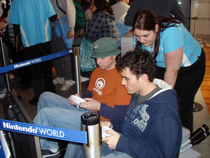 I'm stuffed in there and ready to play.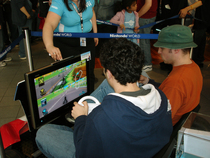 We both got inked!
After winning the race by a tiny margin, I hopped out of car and excitedly asked "can I have my bracelet?" No bracelet. Instead I received a nice star stamp on my hand.
"That means you can get in that line over there and then get a Mario Kart license! You have to have that before you can buy the game!" said the attendant. What?! Another line?
"This is like a freaking scavenger hunt!" I exclaimed. After glancing at this third line and seeing that it was longer than even the first, I realized I was screwed. It was now 4:55pm and there was no way I was going to make it through that line in a half hour, let alone five minutes. Exhausted, I went to the employee handing out the bracelets and explained my situation. He acted as if he was ignoring me. I was frustrated a bit, but then I realized he was just looking to see if his boss was watching.
After discussing the situation with some of his coworkers, he handed me a 5:05pm bracelet under his arm. It was going to be close, but I was going to make it. Sadly, I had to beg the employees and skip a bunch of good people already waiting in line. I bet they felt like they had just been hit by a blue shell. Regardless, I went straight for the sales counter and bought my game.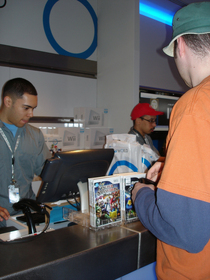 Success!
Why on earth did the organizers of the event feel like they had to force people to participate when they had plenty of copies of the game to go around? I just don't get it. Their tournaments and free swag were plenty to get people excited. In fact, most of the people just participating in those aspects appeared to be having a grand time. Was it really worth completely pissing off all of the people that actually wanted to pay for the game itself? I just don't get it, but I don't think I'll be going out of my way to attend one of these events in the future.