The world arcade scene, additional last minute E3 predictions, and Reggie rage!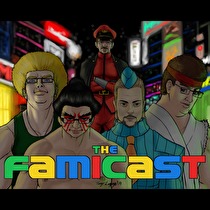 Subscribe via iTunes (Please rate and review, too!)
Recorded after the Mini Direct, but just before the Smash presentation, the Famicrew simultaneously get hyped for E3 and rage about other things (mainly Reggie it seems).
New business finishes off some long talked about games; first Danny talks about the last parts of Xenoblade X, and his appreciation for Dolls. In between grinding for butterflies, he has also been putting in the hours online in Splatoon. Finally someone on the Famicast likes it! (joke) Next up is Ty with your fighting game update. KI is a given, but then there's talk of Dynamite Bomb - possibly the cheapest fighting game outside of, well - free ones. JC wraps things up with NSMBU, and he thinks he's finally nailed why it didn't click for him.
Next up is the Direct Mini, both East and West are covered so you'll get all the games you're getting, mixed with some you hope you'll be getting in the future. Which will you be pining for, Monster Hunter Diaries or Fire Emblem: Bathhouse Edition?
Before wrapping up the show good and proper, a few bonus E3 predictions are thrown in the hat for good luck. Yarn Kid Icarus 3D sounds like a real winner!
All aboard the hype (bullet) train, we're almost there due to time differences!
This podcast was edited by Danny Bivens.
Music for this episode of The Famicast is used with permission from 8 Bit Weapon. You can purchase their music and shirts from their website 8bitweapon.com
Additional music for this episode of The Famicast is copyrighted to Nintendo, and is included under fair use protection.
The artwork for the show was designed by Tony Losoya, follow him on Twitter @Tony_Losoya