The Famicrew unite for fun chat on the Japanese DIrect and Danny's new life as a samurai.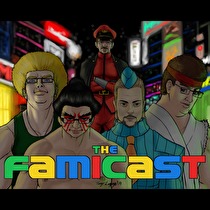 Subscribe via iTunes (Please rate and review, too!)
You found another Famicast, congratulation - a winner is you! The crew have some shared experiences to chat about first, mainly Danny's wedding where he officially became a samurai, or got married, one of the two anyway. The guys then discuss the ups and downs of the Smash Bros tournament, still ongoing here at NWR. Who is coming out on top in this fighting game competition? The answer may shock you!
Moving onto New Business, Danny talks about Theatrhythm Dragon Quest, bizarrely he's not that into it, despite it being part of a game series he has put hundreds of hours into. Ty then talks about some new Animal Crossing DLC. Just kidding, it's Killer Instinct again! He also finds time to freak Danny out with talk of Slender, a first person horror game based on a meme, what fun! JC has been playing a load of games; the crazy end worlds of Boxboy, a DS game on Wii U (where else), plus an awesome free game from Club Nintendo.
Next up is the Nintendo Direct, focussing on the Japan side of things, as is tradition on the Famicast! The crew discuss all the new games heading to Japan; Fire Emblem, Rhythm Heaven, Dragon Ball Z, Fatal Frame, and….Little Inferno? Never a dull moment, we promise you.
The show wraps up with a quick feedback and comments section (we were running long), Danny is somehow allowed to talk about Japanese music in a positive manner.
After you're done consuming this wondrous audio delight, get excite for the live show real soon! We'd love some more letters and tweets to read out so send them to the usual places like famicast@nintendoworldreport.com or @thefamicast on Twitter. Much thanks!
This podcast was edited by Danny Bivens.
Music for this episode of The Famicast is used with permission from 8 Bit Weapon. You can purchase their music and shirts from their website 8bitweapon.com
Additional music for this episode of The Famicast is copyrighted to Nintendo, and is included under fair use protection.
The artwork for the show was designed by Tony Losoya, follow him on Twitter @Tony_Losoya