One man will triumph, the other will fail. Please understand.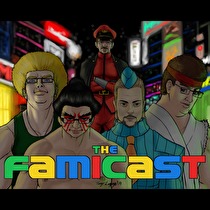 Subscribe via iTunes (Please rate and review, too!)
It's the middle of the month, that means it's time to get LIVE with the Famicast! JC and Danny share their stories about the New 3DS launch day. One is a story of glory and happiness, the other…not so much. Listen in to find out who won the day! The new model is discussed in detail - how it looks, how it feels, how games play, the differences in performance. You name it! The conclusion is that the New Nintendo 3DS will be the best one to play Smash Bros on. You'll see. News covers the (in)famous J-pop "idol" called Kyary Pamyu Pamyu, and her attempts to sell the New 3DS (and its faceplates) to the Japanese public. Did it work? Other bits include; Monster Hunter 4G costumes, Amiibos and Smash sales.
We got a ton of Life in Japan questions from some super excellent listeners, most of which will be answered in episodes to come. For now, in this episode we tackled a couple of easy questions about the cost of living in Japan. Hopefully people interested in visiting or living in Japan will find it useful and/or interesting! How much does a watermelon cost anyway?
Did you know the raw video stream of this episode has been available since the beginning of the week on our new stand-alone YouTube channel (which you can see below)? Please consider subscribing if you want to listen/watch the show before the audio version appears on iTunes. If you prefer things edited down with musical interludes and chapters, then of course just stick to the regular podcast feed! Enough about that though, it's time to grab your pinstripe top hat and Dad Bowser glasses, and get ready for another Famicast!
This podcast was edited by Danny Bivens.
Music for this episode of The Famicast is used with permission from 8 Bit Weapon. You can purchase their music and shirts from their website 8bitweapon.com
Additional music for this episode of The Famicast is copyrighted to Nintendo, and is included under fair use protection.