The Famicrew survived the Tokyo Game Show (it wasn't hard) and have an episode full of impressions from the show and more!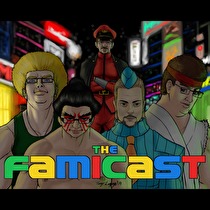 Subscribe via iTunes (Please rate and review, too!)
The smell of 251,832 sweaty Japanese game fans can only signal one thing - Tokyo Game Show 2014, baby! Danny, Ty and JC hop aboard the hype train for a lengthy discussion on the scores of amazing Nintendo games that were at the show!! OK, maybe that is overselling it a bit. How about boarding the regular speed commuter train to discuss the handful of 3rd party 3DS games that were available to play? Be sure to put down any hot drinks you may be carrying when you find out that Monster Hunter was at the show and is still popular in Japan! I know, right? The crazy thing this year was that Danny actually managed to play it this time, and on the New 3DS, too. Listen in for his feelings on the new C-stick and increased CPU power. Find out if these features make any discernible differences to the game, or even future/current games.
After all the TGS chat, the crew give updated impressions on Smash Bros. Two weeks after the game came out they are still having fun, but they have reservations about some modes - find out which ones! Lastly the show wraps up with some news on the week's best selling games in Japan and a (brief) Twitter question aimed at Ty. I bet you can't guess the topic.
So grab your TGS swag bag, fill it with as many band aids and fake cigars as you can find, and join us for another podcast from "here in Japan!"
This podcast was edited by Danny Bivens.
Music for this episode of The Famicast is used with permission from 8 Bit Weapon. You can purchase their music and shirts from their website 8bitweapon.com
Additional music for this episode of The Famicast is copyrighted to Nintendo, and is included under fair use protection.