Tune in this month to find out what body pillows, Metroid, NFC payments and Mario Kart all have in common.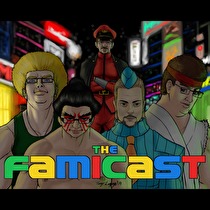 Subscribe via iTunes (Please rate and review, too!)
Is the heat of the summer getting you down? Pick up your favorite body pillow and cool off with the latest episode of the Famicast! Matt is back this month and in New Business talks about his impressions of Mario Kart 8 while Ty fills us all in on all of the action that went down at EVO. Danny rounds things out with some impressions on a new free puzzle game on the Wii U, Buta (Pig) Medal and delves seriously into 2D Metroid for the first time with the GBA VC release on Wii U, Metroid: Zero Mission. He also breaks down how the newly added NFC payments feature works on the Wii U and how it is (kinda) implemented into Buta Medal.
News is a hodgepodge of goodies as the guys talk about the latest happenings from the Land of the Rising Sun including Dragon Quest X on 3DS, Free Denpa menz, Media Create Sales data and plenty more! This month, we also have a brand new feature from the mind of Ty called Fake or Real. The concept is simple - Ty gives a short description of some wacky, abnormal Japanese game and it is your goal to guess whether or not this craziness is real. Feel free to play along at home, on the train, or while taking a bath!
Of course, if you have any questions, comments, complaints or criticisms, feel free to contact us! You can always leave a message in the Talkback thread below (yes, we do read them), send us an email at famicast@nintendoworldreport.com, tweet at us at @thefamicast or post in the Questions for the NWR Japan Crew forum thread.
Oh, and be sure to tune in to see how you can be the proud owner of the one and only Danny Bivens Body Pillow! Famicast a go-go, baby!
Mario Kart Arcade GP DX Trailer
This podcast was edited by Danny Bivens.
Music for this episode of The Famicast is used with permission from 8 Bit Weapon. You can purchase their music and shirts from their website 8bitweapon.com
Additional music for this episode of The Famicast is copyrighted to Nintendo, and is included under fair use protection.