Miss the latest live Famicast? The Famicrew has you covered!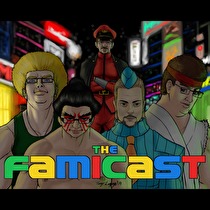 Subscribe via iTunes (Please rate and review, too!)
Kannichiwa, Mini-san. The podcast is down a few members this episode, but that didn't stop the podcasting about Nintendo games in Japan! At the tail end of March, Famicast host and editor Danny Bivens and Fami-father, James Charlton, decided to do things a little bit different this month and brought the podcast to you LIVE in video form thanks to Google Hangouts On Air. It was all put together pretty quickly and served as an experiment of sorts, but even if you missed it, you can watch the video or enjoy the audio per usual. The viewer interaction was great and we really appreciate everyone who had the time to take part in the show live!
The show kicks off with New Business as usual, with James discussing some classic Mario titles that he recently picked up on the Nintendo 3DS Virtual Console. After listening, you should get some shocking insights into the history of the first Mario games that JC ever played! Danny finished up Assassin's Creed IV and offers his closing thoughts on the overall experience. On top of that, he even talks about a sought after piece of gaming hardware that has been mostly dormant among his pile of gaming gear - the N64DD!
To speed things along, news is touched on briefly (Minoru is looking at you, Style Savvy!) to leave room for an extended discussion on the upcoming Game Boy Advance Virtual Console releases on the Wii U. Find out whether the crew decides to grill the Big N on the decision or are apologists to their digital masters.
We received some great questions from the viewers that covered a variety of topics such as arcade games leaving Japanese shores, Japan exclusive gaming gear and even professional wrestling. It was a ton of fun and made for an enjoyable show! If you have any questions for us regarding gaming, Japan, or Danny's haircut, be sure to either send us an email at famicast@nintendoworldreport.com, contact us on our new Famicast Twitter handle, @thefamicast, post in the Questions for the NWR Japan Crew forum thread, or leave something in the feedback below. If you want to watch the video version of the episode, be sure to check it out below and let us know if you would like to see more of this in the future!
This podcast was edited by Danny Bivens.
Music for this episode of The Famicast is used with permission from 8 Bit Weapon. You can purchase their music and shirts from their website 8bitweapon.com
Additional music for this episode of The Famicast is copyrighted to Nintendo, and is included under fair use protection.