Here's to three years of Fami-filled fun, this time the busty anime babes are included!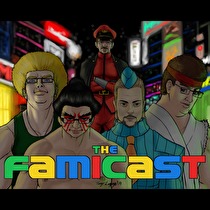 Subscribe via iTunes (Please rate and review, too!)
Another Famicast is here to tickle your eardrums. This month, Tim is out, but our old friend Matt joins Danny and Ty for this month's show. This episode also marks the three year anniversary for the Famicast which is technically March 11, but hey, close enough!
New business has an array of games thrown into the mix. Danny talks about the latest Dragon Quest game, Dragon Quest Monsters 2: Iru to Ruka no Fushigina Fushigina Kagi for 3DS and how it stacks up against the brisk RPG competition that the platform has to offer. Ty always has something crazy to talk about and this month is no different. Aside from the usual update on Killer Instinct, he lets us all know about a new free to play MMO starring largely endowed anime ladies, which has a little bit more to offer than what it sounds like (maybe not much more, though). Matt talks a little about his initial impressions of Strider on PS3 and then shares his rekindling romance with Monster Hunter 4 and the special Mario and Zelda DLC.
On top of the latest news of all that has been happening in gaming-wise in Japan, Danny and returning guest Josh Polak talk about the wonderful (?) world of Roppongi and an event they attended for a new segment of Life in Japan. Going back to the world of games, the guys tackle a few emails detailing QA testing (among other things) in Japan with new input from Matt and some real talk about Japanese gaming podcasts. Oh, and throughout the news segment, Danny goes a little crazy with saying "in Japan," so feel free to point and laugh as you tally up the unnecessary amount of time he uses the phrase. As always, be sure to send any and all questions Japan related to famicast@nintendoworldreport.com or post on the "Questions for the NWR Japan Crew Thread." Keep the mail coming, guys!
Three years of the Famicast have went by in a flash. Here's to three more years! Famicast a go-go, baby!
Show Links (Japanese Gaming Podcasts, etc.)
Sega's Yakuza Podcast
Capcom's Monster Hunter Radio
Imai Asami's Singer Song Gamer
Tokyo Game Jihen
Famicom Meijin e no Michi
This podcast was edited by Danny Bivens.
Music for this episode of The Famicast is used with permission from 8 Bit Weapon. You can purchase their music and shirts from their website 8bitweapon.com
Additional music for this episode of The Famicast is copyrighted to Nintendo, and is included under fair use protection.