Kirby, ninjas and kappas invade the Famicast!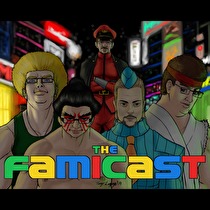 Subscribe via iTunes (Please rate and review, too!)
Now that you're back in the swing of things with work/school/whatever else you do, it's time for the first Famicast of 2014! New Business kicks off the show with Ty talking about the plethora of games that he's been playing across all platforms. He even goes a little old school this month by starting the Ninja Gaiden series on NES, a series for REAL gamers! Tim shares his experience with the Simple Series title, @Simple DL Series Vol. 22 THE Hohei - Senjō no Inu-tachi, a third person World War II shooter on the 3DS. Be sure to bring your toast because there is plenty of grape jam oozing out of enemy soldiers to go around! Danny finishes up with some real talk about Kirby: Triple Deluxe on 3DS (for his written thoughts, you can read his review here). While it's fun, Danny and Tim tear into a few of the inadequacies of the game and the series overall.
Being recorded before the whole onslaught of news that we saw this past week, there wasn't a whole lot of news related things going on in Japan. The original Phoenix Wright titles are still coming to the 3DS, though, so the crew weighs in on it and Ty tells us about a great parody hentai Ace Attorney game for PC complete with a horrible English translation. Yay? Be sure to listen in for that!
DS games being available on the 3DS eShop in Japan has been a thing for the past two years. Well, kind of. The guys go in depth about the Club Nintendo exclusive DS releases on the service and their hopes and dreams for the continuation in the coming months…years…decades?
As always, be sure to send any and all questions Japan related to famicast@nintendoworldreport.com or post on the "Questions for the NWR Japan Crew Thread." We got an interesting email that we read on this month's episode (and will follow up on next month, as well) so please keep them coming! Put on your ninja outfit and float on over for the the latest episode of the show! Famicast a go-go, baby!
Editors Note: Again, there were some slight hiccups with the audio. We're going to try super hard to make sure this isn't an issue in future episodes. "Please understand!"
This podcast was edited by Danny Bivens.
Music for this episode of The Famicast is used with permission from 8 Bit Weapon. You can purchase their music and shirts from their website 8bitweapon.com
Additional music for this episode of The Famicast is copyrighted to Nintendo, and is included under fair use protection.