Join the chaps for revelations, discussions and the warriors of competitive gaming.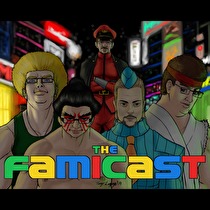 Subscribe via iTunes (Please rate and review, too!)
The show with the temporary member near and dear to our hearts. To replace the heavy hitter, we asked Danny to co...What, he was already there? Now that we finally know who that funny narrator is, let us get on with a new batch of Famicast episodes!
Ty kicks off New Bizz-Nizz this month, as he goes through some smaller things. He played through Limbo which he wasn't too impressed with, but still found some things to like. For the rest, he played some Darkstalkers and Assassin's Creed: Revelations. He ends his little talk with EVO, where all the fighting game fans came together for some fun. The trio even finds some time to talk about Smash Bros. Melee, which is always a plus! After that, they even talk about tournaments in their personal lives and Daan makes a shocking revelation (not really).
Speaking of that Dutch duder, he is next with his selection of titles and, oh... he looks a bit sad. The broken man talks about a very bad chat application, which carries the name Minna no Oshaberi Chat. He wrote a review for it, just for the people who can't get enough of the rants in this episode. After this maddening conversation, Daan gets his energy back with Undead Bowling, which he found the most dumb, but glorious thing he has ever played. He ends his session with a discussion on Yōkai Watch, which came out in Japan this past month. The various battle mechanics are discussed, but is it fun beyond the simple set-up? Listening will give you the answers needed to survive!
Danny ends Happy Discussing Gaming Fun Fun Time A-Go-Go (trying saying THAT five times) and starts with a progress report on Sayonara Umihara Kawase. He has beat the game, but there is still some unexplored stuff to go through. Nazo no Murasame Jō is his Virtual Console pick of the month and he found the Zelda-esque game quite enjoyable. The Famicom Disk System title featuring Takumaru still certainly holds up and makes us crave for another adventure in his name. His final choice for the month is the demo for Yakuza 1 & 2, which will be coming to Wii U in August. The demos give plently of content to enjoy and both Danny and Daan discuss the various elements of it. They don't seem too keen on the graphical standards though!
After the usual short musical break, the peeps from fort Japan are greeted with the Media Create Sales and they discuss the most surprising ins and outs. Of course, there are still your usual bits of news to enjoy in which we discuss Skylanders, Chibi Robo and Denpa Ningen RPG 3. We also banter about the weird choice of GameFreak to make a horse racing game mixed with Solitaire. Who is planning to pick it up? All of them are! We also get some hot scoops of Hatsune Miku: Project mirai 2, which is something Ty and Daan are interested in. Both for completely different reasons we reckon!
The episode comes to a close with the return of Life in Japan, in which the Famicrew discusses Japanese festivals. There are some weird stories discussed, many laughs to be had and Daan who continues to ask, ''Why did I sign us for this again?'' At least you will learn something, so we decided to leave it all in and make you happy with more randomness. Because there is a lot of that in this two hour fest, beware of off-color rants and weirdly placed discussions all throughout the venture. But hey, that will keep you on your toes!
Enjoy the start of a brave new journey into the unknown, as these three explorers discover places where no one has gone before. ...Nah, not really. We just like to screw with your expectations, so just go out and enjoy this ramshakle of a show.
Don't forget to send any questions that are Japan related to famicast@nintendoworldreport.com or post on the "Questions for the NWR Japan Crew Thread."
Episode Links
Gion Matsuri Video (from Ty's talk about festivals)
Note from Danny: I have video from the local festival in my town embedded below. I'm no professional, and the thing was shot with an iPhone, so don't hate, boi!
This podcast was edited by Danny Bivens.

Music for this episode of The Famicast is used with permission from 8 Bit Weapon. You can purchase their music and shirts from their website 8bitweapon.com

Additional music for this episode of The Famicast is copyrighted to Nintendo, and is included under fair use protection.