Are you locked and loaded for a three hour Famicast? We sure are!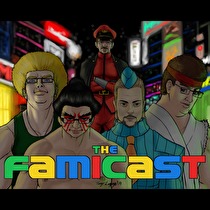 Subscribe via iTunes (Please rate and review, too!)
The magical journey of everything Japanese continues as we are nearing 25 podcasts! None of the numbers matter this month, as three duders in Japan and one guy in Europe (We totally blank on his name!) bring a three hour extreme-a-thon!
We kick off the show with an hour long New Business extravaganza and everything begins, as usual, with the overlord sir, almightly Danny. He has not been playing extremely much this month and mostly did his gaming on the go! Danny starts talking about the baseball game Moero! Pro Yakyū (Bases Loaded) on the Famicom. Does it hold up to the standards of Arc System Works' Arc Style: Baseball!! 3D? Next, he tells us about his adventures with the original Sonic the Hedgehog. SEGA's reprint program launched a 3D version of title... and it is surprisingly fun!
Then the loveable Minoru steps into the fray and talks about his endeavours with From Software titles. He continues his playthrough of Dark Souls and tell us various nuggets from the game. Daan played, as usual, a whole bunch of stuff, which he takes some time to talk about. He kicks things off with more talk of Project X Zone, considering the demo came out last week in Europe. He compares both versions of the titles and he finds himself going through the Japanese version once again! Elsewhere, he is playing Donkey Kong Country Returns, which he certainly gushes about and makes the other members very excited. He ends it all on a bit of a downer, as he didn't think too highly of The Starship Damrey. Why? Just go and listen, okay? Everything will be explained in due course.
Ty closes New Business off with a selection of non-Nintendo releases, because that is how he rolls. He talks about Super Meat Boy, which he finally got around to playing more. He is making some good progress, but has he been enjoying himself? Of course he has! This is also the case with Saints Row The Third, which he got with his new collection of Xbox 360 games. Then he goes off the beating path and talks about Rock of Ages, which frankly not one of us has ever heard of! He ends it off with some fighting talk, because that is how he rolls (Wait, didn't we tell you this before?). He gives more updates from the world of Skullgirls and pumps us up for the latest entry in the Guilty Gear series. That isn't exactly a thing he has played, but come on, give the guy a break!
After this madness, we head into the news bits that mattered this month. We start with the usual sales figures, talk more about the Virtual Console and talk seriously about the new Nintendo 3DS color. Fantasy Life Link, the expansion to the original game, also gets a discussion with all the stuff we know about it! Then it is time to talk CHOKUSETSU to you about the latest Nintendo Direct. Here are some heads-up spoilers: Minoru thinks that Nagoshi is a little punk. For the rest, we talk about more things SEGA and the announcements that are specific to those in Japan... somewhat.
The last two sections are short discussions, which we hope to see some reactions for in the talkback thread. We begin with E3 2013 and the upcoming Nintendo Direct, where details will be revealed about upcoming software. What do think will be shown and what plans does Nintendo have to do to bring the Wii U into more homes? The other discussion is all about the Xbox One reveal and it goes even beyond Daan's skepticism from a few episodes ago. We all know what you think of it, but what do these guys think about Microsoft's next baby? (They don't like it!)
The needs of the many, outweigh the needs of the few. This is why we went through all the struggle of getting this done and getting it more complete than usual. Go forth and enjoy this episode, because the next... is going to be rather different!
Don't forget to send any questions that are Japan related to famicast@nintendoworldreport.com or post on the "Questions for the NWR Japan Crew Thread."
Episode links
Donkey Kong Country Returns 3D video
Guilty Gear Xrd Trailer
A Potential Implication of Sega Direct with Nagoshi (Mino's Editorial)
This podcast was edited by Danny Bivens.

Music for this episode of The Famicast is used with permission from 8 Bit Weapon. You can purchase their music and shirts from their website 8bitweapon.com

Additional music for this episode of The Famicast is copyrighted to Nintendo, and is included under fair use protection.