A healthy dose of cats and vidya games come together nicely to create the latest episode of the Famicast.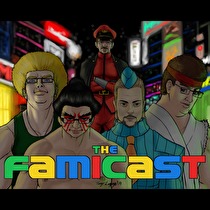 Subscribe via iTunes (Please rate and review, too!)
Brace yourselves for another monthly dose of the Famicast! As usual, the guys have been playing a healthy array of games across all different platforms. But don't worry! There's definitely some Nintendo stuff sprinkled into the mix!
Minoru kicks off new business by sharing his love (?) of first person dungeon crawling RPGs and even talks about an old Playstation 1 classic from From Software (the guys that brought you Demon and Dark Souls). Next up, Ty tells us what's going on in the world of fighting games in Japan and even discovers that there are at least a couple of gamers in Japan that like Mortal Kombat! Daan, who is always hip to the latest Nintendo releases, let's us all know about Pokémon Rumble U, Tomodachi Collection and shares a little bit more about Game & Wario. That leaves Danny to wrap up new business with a sad tale regarding Dragon Quest VII which leads into much happier talk about The Legend of Zelda: Link's Awakening DX. 2D superiority, anyone?
News. There is tons and tons of Japan related news that happened over the month of April, and then of course, on top of that, the Nintendo Direct just added more glorious information to the pile. The guys break down and discuss things like NFC card usage for the Wii U and Pokémon Rumble U, Club Nintendo exclusive DSiWare games that you can't even get on a DSi, upcoming exclusive Japanese 3DS titles, cats and more!
So grab small glass of warm sake, some dried squid, a cat and get ready to hear the latest from Japan!
Of course, send any and all questions Japan related to famicast@nintendoworldreport.com or post on the "Questions for the NWR Japan Crew Thread."
p.s. Be sure to check out the end of the episode for a special announcement regarding Famicast 25 from Danny!
Links for the episode:
Midwood2004 (Mortal Kombat character art and random Japanese fact site)
Nintendo Prepaid AR Card Video
This podcast was edited by Danny Bivens.

Music for this episode of The Famicast is used with permission from 8 Bit Weapon. You can purchase their music and shirts from their website 8bitweapon.com

Additional music for this episode of The Famicast is copyrighted to Nintendo, and is included under fair use protection.