There is no party like the ones filled with games!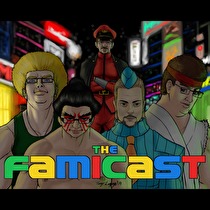 Subscribe via iTunes (Please rate and review, too!)
While the Famicast comes closer and closer to a magic number, the four lovely folks continue their gaming quest and discuss the latest stuff!
Daan kicks New Business off with Monsters Come Out on Friday (Kaiju ga Deru Kinyōbi), which is the first game in the new Guild02 series of games. Surprisingly enough, the Dutchy doesn't seem too pleased with it. You will have to tune in to figure out why! He doesn't end on that sour tone though, as he talks about Mansion Percussion. Oh boy, someone is being a negative nancy around here. Luckily, it isn't all bad though, as he really enjoyed playing through Castlevania: Lords of Shadow - Mirror of Fate. Ty follows Daan up by talking about XCom: Enemy Unknown. Why? Because strategy games. He also talks briefly about Lollipop Chainsaw, which he finds brilliant. Did you really expect anything else?
After that bombshell, Minoru brings more craziness to the table with Metal Gear Rising: Revengeance. Did he enjoy Platinum's take on this franchise or was it a bust in his eyes? At the very least, he makes some comparisons to Vanquish, which is the good stuff. Danny wraps it all up with more Dragon Quest VII, which he has been enjoying even more the past month. He also talks short about the Dragon Quest X beta, which has been nightmare to download for some. Finally, he wraps it up with the second game in the Guild02 series, which is Bugs vs. Tanks (Mushikera Sensha). Can Inafune's bug destroying game be any fun? Daan and Danny discuss the game quite deeply and it seems like they certainly got something out of it. For the full scoop, be sure to read Danny's impressions.
After the usual short break, the guys discuss various news bits from the past month. They talk about the usual Media Create Sales, which is followed up by digital retail games and a couple of new bundles. They are also discuss the Chotto Nintendo Direct conferences from March, which were all about Tomodachi Collection and Flipnote Studio 3D. We end the news off by talking about gashapons and a certain new Pokémon game, which we are sure has no impact what so ever. Really...honest.
The team ends the show with a feature topic and this time, it is all about Nomikai. These Japanese drinking parties may sound like a wild time, and that is because they are. These are possibly the most interesting work related information you will ever hear from Danny and Ty. Also, Daan uses Wikipedia and questions some stuff here and there. Always fun! So what are you waiting for? The party is just getting started!
This podcast was edited by Danny Bivens.

Music for this episode of The Famicast is used with permission from 8 Bit Weapon. You can purchase their music and shirts from their website 8bitweapon.com

Additional music for this episode of The Famicast is copyrighted to Nintendo, and is included under fair use protection.