Have you ever wanted to journey to the Land of the Rising Sun? The guys talk about that and more in this month's episode!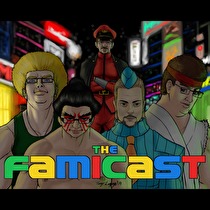 Subscribe via iTunes (Please rate and review, too!)
The new year has begun and that can only mean one thing: Brand new episodes from the Famicast crew for you to listen to. Minoru is back this month, which means the crew is jam packed once more, with four people maintaining the fort known as the Pod.
Ty opens New Business with more talk about UFO catchers and the really crazy prizes he won in all of those. He also went to Comiket, which is this fun convention in his area and he goes in-depth about the stuff he has seen there. Finally, we wraps up with some Ultimate Marvel vs. Capcom 3. Why? Because fighting games. Minoru steps in the fray after Ty has said swag just a couple times more and talks to us about his experiences with ZombiU. Was it a fun experience for him or is he on other side of the spectrum? On his trusty 3D handheld though, he has been playing 3D Space Harrier, which is simply one of the best versions of the game. Together with Daan, they gush over the game like there is no tomorrow and find room to make Danny feel impressed.
Speaking of Daan, he is next as been playing some weird stuff here and there. He talks about the recent releases of Ninja Gaiden 3: Razor's Edge and SiNG Party, which were released on his side of the world. He explains why the Japanese action game is fun, and why the western developed singing game makes him scratch his head. He also goes on another Arc System Works quest and plays their newest eShop releases: Blayzbloo and Kunio-Kun. Danny follows up the other D with some Xenoblade, as he discovers the full depth of the title. While Ty and Daan have given their short impressions of The Walking Dead in a previous episode, Danny talks a little bit about it on its own. It must be noted though that he played the iOS version, which is possibly the best way to play the game.
This month's Life in Japan segment tackles a topic that might be on some of your minds - coming to Japan. Matt Walker and James Charlton join Danny and Ty for the segment and talk about how they ended up coming to and living in the Land of the Rising Sun. These personal stories are by no means the definitive way to come to the country, but are definitely some avenues that interested parties can look into if they are serious about coming to Japan.
In the news, some more 3DS retail games came to Japan to populate the Nintendo eShop even more. We also talk about Professor Layton games and chocolates, which are some of the best things ever. All of this and more, on the first Famicast of 2013! Famicast a go-go, baby!
Links for the episode:
3D Space Harrier M2 Interview (Japanese)
A Game Developer's Take on Japan: The Myths and the Reality
Japanmanship: The Ultimate Guide to Working in Video Game Development in Japan
New Super Mario Bros. U – Synchronized Platforming
Be sure to send any and all questions Japan related to famicast@nintendoworldreport.com or post on the "Questions for the NWR Japan Crew Thread." Ty has taken up residence there and will assault you with catnip.
This podcast was edited by Danny Bivens.

Music for this episode of The Famicast is used with permission from 8 Bit Weapon. You can purchase their music and shirts from their website 8bitweapon.com

Additional music for this episode of The Famicast is copyrighted to Nintendo, and is included under fair use protection.