Do you accept Danny as your new Famicast overlord? These guys do!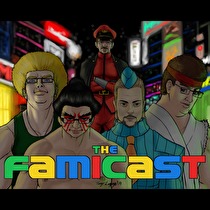 Subscribe via iTunes (Please rate and review, too!)
JC may have left Nintendo World Report, but that doesn't stop the crew from releasing episodes like a mad man. Under the power of the knowledgeable (we hope) Danny Bivens, the crew will remain always on track and keeps their focus (not really). Luckily, they get help from Ty Shughart to bring this episode full circle!
We start the show as usual with new business, in which Minoru played the NES game based on the movie Willow. Ty follows his antics up with a licensed game of his own: Friday the 13th, and he discusses the brand new Double Dragon Neon. On the other side of the globe, Daan recently played demos for Paper Mario: Sticker Star and E.X. Troopers. Will these big hitters live up to his expectations? Finally, we will finish off with Danny, who has been playing Bravely Default and Project X Zone.
After discussing various topics like the recent Chotto Nintendo Directs and the dedicated Animal Crossing Direct, the crew is joined by a special guest. Who? Well, that is something you will have to figure out for yourself. In the Life in Japan segment, they talk about a weird Japanese law which prohibits dancing in commercial places across Japan. This sounds like a joke, but nothing is further from the truth!
Finally, we conclude our journey with some listener mail, which talks about the subject of Japanese folk calling their surrounding countries just simply Asia. However, the guest can relate to the topic in a similar sense and they all talk about why it makes sense. We reckon it will not only learn you something about Japan, but also how the world reacts to this particular issue.
Get ready for a major bag of podcasting swag and join the Famicast fun club today, Mac!
This podcast was edited by Danny Bivens.

Music for this episode of The Famicast is used with permission from 8 Bit Weapon. You can purchase their music and shirts from their website 8bitweapon.com

Additional music for this episode of The Famicast is copyrighted to Nintendo, and is included under fair use protection.