Make sure you've got a comfortable seat and plenty of time before listening to this bumper episode!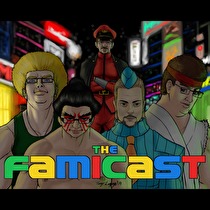 Subscribe via iTunes (Please rate and review, too!)
Famicast XIII
The first part of this 3+ hour show starts off with some (virtual) violence towards animals as Minoru talks about two completely weird and wacky "animal action" games he's been playing, Tokyo Jungle and Cubivore. Yes, that bizarre GameCube game that was originally developed for the Nintendo 64DD. This leads nicely into some GON talk from JC. If you don't know who GON is, or what his theme song sounds like, you will by the end of this show! After that, we pick Daan's brains on the E3 games he played (twice), but we try to not retread the same games you may have heard talked about on the other NWR podcasts. Even if you're sick of E3 wrap-up shows, there could be something of interest! With the new business out the way, we run down the whole Nintendo Direct presentation with focus on the Japanese one of course, something that seems to be becoming a Famicast tradition! After discussing Mario DLC, Animal Crossing and the 3DS LL we take a break and come back with....
Famicast XIII-2
Yes, this episode was so long we had to take a 24 hour break and come back with a different crew! Matt Walker joins the fray and helps us run down all the latest Nintendo news from Japan, including a VC release that brings out the fighting game fan in him. Life in Japan is a really special one this episode. We take you on a Nintendo history lesson, using TV commercials going as far back as the Famicom Disk System! If that wasn't enough already, we still find time to answer some listener mail and look back on our E3 hopes and dreams (and how they fared against reality).
So grab the biggest drink legally available to you, curl up with your favourite pet and a bowl of nicely seasoned rice, and enjoy the longest episode of the Famicast ever made!