FAMICREW ASSEMBLE!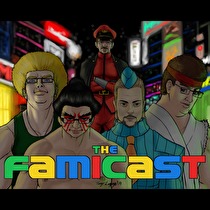 Subscribe via iTunes (Please rate and review, too!)
For the first time ever, every member of the NWR Japan team is on one podcast! That's right! Minoru Yamaizumi, our Japanese Japan correspondent, finally makes his Famicast debut!
This rather special Famicast is split into two distinct segments, with the first being recorded a week and a half before the second half, the reasons for which will become apparent if you read on (or just listen to the show!).
The first segment is all about new business. Daan kicks things off with a big dose of VC games: Street Fighter 2 with online play and all the Game Gear games that hit the Japanese eShop. Of course, he doesn't break his streak of music rhythm games with plenty of talk about Hatsune Miku and a new eShop music game, Dopa Mix. Danny wraps up his Theatrhythm play through, and ponders whether it or Rhythm Thief holds the crown for the best 3DS rhythm game.
JC finally makes his first eShop purchase thanks to a recommendation from "Captain eShop," then gives his final thoughts on Skyward Sword now that he's seen the credits roll. Matt wraps things up by channelling the spirit of Jon Lindemann, as he tries to get through his backlog by getting reacquainted with Okami. Listen to his thoughts on the accuracy of its translation to English.
The second segment tackles all the usual remaining features of a typical Famicast episode: Japan-centric news, life in Japan, and reader mail. HOWEVER, this segment is unique because it was recorded with JC, Danny, and Minoru sat around the same table from an office inside Tokyo University! Listen to find out why the heck JC and Danny were running around campus with a video camera and 3DS's in their pockets. Intrigued?
So grab a slice of $100 melon and turn on your Kid Icarus StreetPass! We guarantee you'll have a good time - no matter what blood type you are!
This podcast was edited by Danny Bivens.
Music for this episode of The Famicast is used with permission from 8 Bit Weapon. You can purchase their music and shirts from their website 8bitweapon.com
Additional music for this episode of The Famicast is copyrighted to Nintendo, and is included under fair use protection.