Join the NWR Japan correspondents in their first ever podcast dedicated to everything Japan.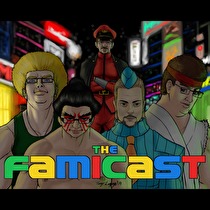 Subscribe via iTunes (Please rate and review, too!)
With the Japan team now three men strong and the Triforce now complete, we thought now was the perfect chance to start a supplementary podcast to RFN featuring the whole crew, and thus, The Famicast was born!
Unrestricted by time zone differences, James Charlton, Matthew Walker and Danny Bivens form together like Voltron for some talk about everything Japan.
The hot topic is, of course, the 3DS launch, but after that, we move into detailed impressions of the system's features, including StreetPass. Listen to Matt as he describes what it's like to have a 3DS in your pocket walking around the busy streets of Tokyo.
News is (naturally) Japan-focused, with talk of some interesting Virtual Console releases and the crazy Pokemon-themed DS typing game.
After that we get straight into our Japan exclusive games feature, featuring none other than The Last Story and Captain Rainbow!
Learn what it takes to give Birdo his/her happy ending. (It's as weird as it sounds).
With us all living in Japan, the odd Japanese word slips out from time to time, so you never know, you might learn a bit on the way!
We wrap up the show with a chance to win some cool swag from Japan, listen to the show to find out how. Entries can be sent here.
If you want to ask the Japan crew a question, why not drop by our forum thread or send us an email directly. We will try our best to answer them all, the best of which will be answered on the show.
Consider us as your irregularly scheduled manga pullout from your main gaming publication that is Radio Free Nintendo.
Podcast a go-go baby!
This podcast was edited by James Charlton.
Music for this episode of The Famicast is used with permission from 8 Bit Weapon. You can purchase their music and shirts from their website 8bitweapon.com
Additional music for this episode of The Famicast is copyrighted to Nintendo, and is included under fair use protection.