A little haggis goes a looong way!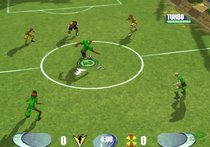 Disclaimer - Certain modes that are discussed in this article (such as the mini games), do not appear in the American NTSC version of the game. This is due to it being the first version of the game released. The Xbox and PS2 versions which were released later, included extra features such as the mini games, extra teams etc. When the game finally came to the PAL GameCube, the extra features were then added back in for that release.
Sega Soccer Slam was a surprising title for me when I picked it up for cheap some eight years ago. I had been interested in it, but was slow to actually pick it up. I was immediately glad that I did, and wished that I had purchased it earlier, as it quickly became one of my favorite arcade sports games.
The game plays similarly to other arcade soccer titles (such as Mario Strikers), with three players and a goal keeper per team. The characters are all stereotypes from around the world, and they are quite a colourful bunch. From a Scotsman to an American jock, all the major regions are covered, and surprisingly even Australia is represented.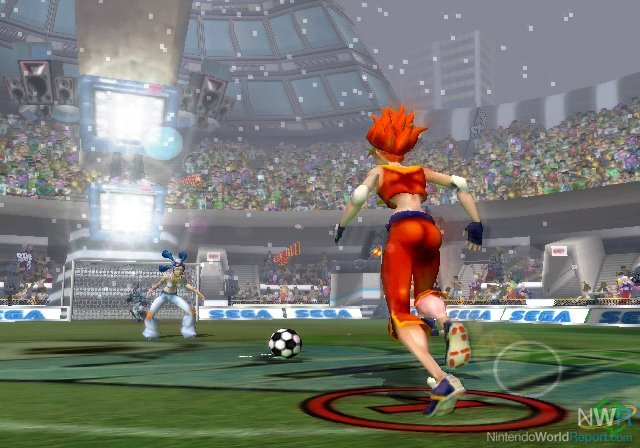 Red Vs Blue
During a match you have all the usual functions you would expect from a soccer game, such as passing, shooting, and punching. There is also a basic combo system in place, where by stringing together passes and shots builds your power meter. You can then use your stored power to either have a burst of energy, to run and shoot faster, or activate the killer kick, which basically gives you "bullet time" that allows you to aim your shot at the goal.
One of the cool features is the ability to use your prize money to buy items to increase your players stats in the single-player quest mode. Once purchased, these stats affect all other areas and modes of the game. Another fun addition during quest mode are challenges that are available to compete in, such as performing killer kicks to score goals.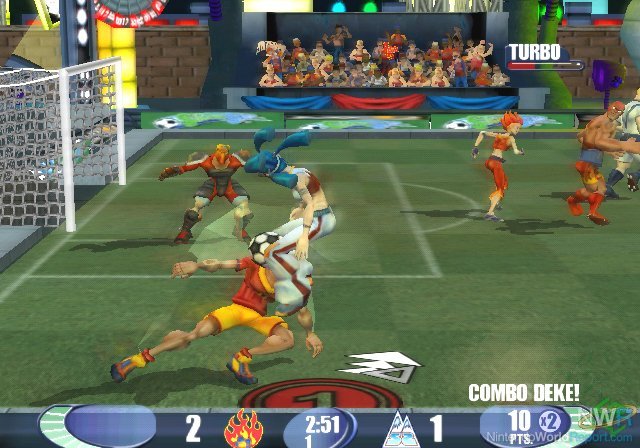 After playing the game by myself, I invited some friends over to try out the multiplayer. They all thought the game was alright, but sadly could not really get into it because they didn't like the characters. This perplexed me a little; sure, they look a little strange, but the gameplay is fun.
Besides the main soccer mode, there are also a couple of fun mini-games. One is a Hot Potato game in which you have to keep possession of the ball to rack up points, and when the timer is almost up, pass it off to another player to avoid an explosion and loss of points. The other is a simple brawl match in which all players have health bars, and the last man standing wins. These modes, while fun for awhile, lose their appeal fairly quickly. Admittedly, it was pretty funny with four humans playing Hot Potato.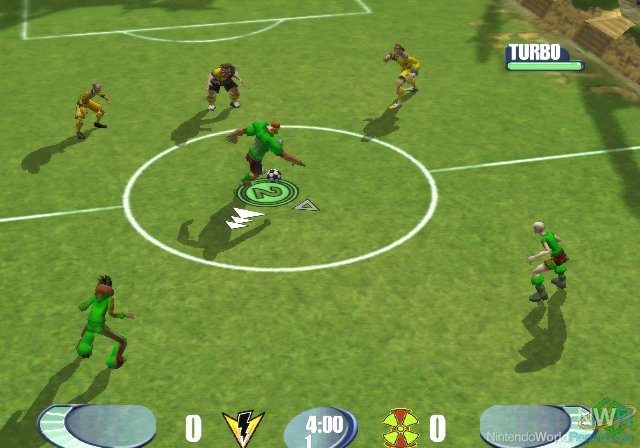 Sega Soccer Slam is a fast-paced and funny game. Comments from the announcer and the players themselves are usually humorous, and they don't get tiresome as quickly as you would expect. Some people may find the character designs and art to be off-putting, but to me they don't spoil the overall experience. And who couldn't like Angus the Scotsman?