Who knew that having a gambling addiction would be so much fun!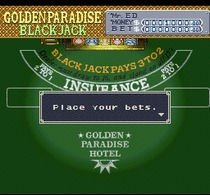 Extra Life is a weekly column focused on giving games a first, second, or third chance. Each week, someone will look at a game they missed, remember fondly from their childhood, or just thought was passed over. It could be a game that received universal appraisal, or one that seemingly nobody played.
Growing up I had my fair share of favorite Super NES games, ranging from Donkey Kong Country and Super Mario World to Street Fighter II and Mortal Kombat II. However, there was one game that stood out for me, even though it is nothing like the games I previously mentioned, and it's a genre of gaming very few kids cared for back in my day: video gambling. That game, my friends, was Vegas Stakes.
Developed by HAL Laboratory and published by Nintendo, Vegas Stakes is the SNES sequel to Vegas Dream, released for the NES. It features five gambling activities: Craps, Roulette, Poker, Blackjack and Slots. You play them in order to try and win money. If you win, you rule the world. If you don't, you lose money AND self-respect. Those are the basics of it all.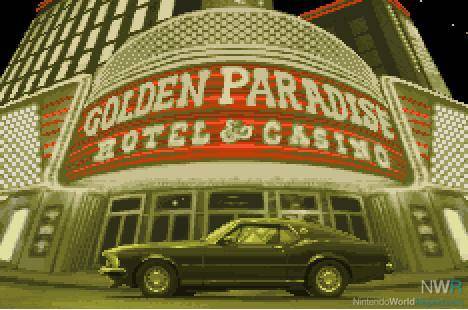 Welcome to Golden Paradise Hotel and Casino! How may we take your money today?


So the question is why I did like this game so much? I mean, kids hardly care for gambling games. That's something retired senior citizens are into (if you pardon the broad generalization). In real life, I am so unlucky at gambling that I not only lose my shirt, I lose the rest of my clothing along with my dignity and quite possibly my soul! Vegas Stakes did something that very few gambling simulators do, and that is it told a story complete with active participants and a varied supporting cast.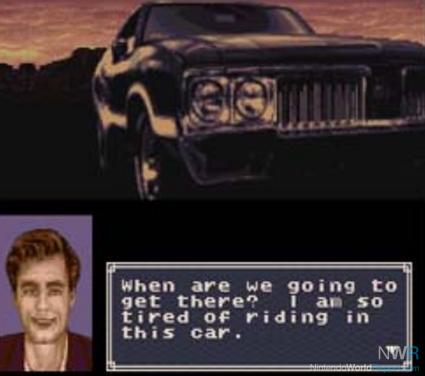 Yeah, there's always that douche who tags along with the group on EVERY road trip.


When you load the game's Vegas Adventure mode, you are treated to a cut scene of a group of friends driving down the Nevada desert on their way to Vegas. They have very lively, if stereotypical, personalities that are fleshed out through random conversations. And YOU are the driver of these fun loving souls! How awesome is that? When you arrive to your hotel, you are asked to sign in your name.
Now, as any red-blooded gamer will tell you, there is nothing more fun that using a dirty or silly word as your name. In this game, I used a lot of potty mouth banter to name my unseen screen avatar. Once you register at the hotel, you are given the option to go to various casinos with one of your friends. The casinos themselves are full of personality, and have varied themes, such as the old west, the future and, of course, ancient Greece. Even if the activities remained the same, the atmosphere was always great, and it really did feel like you were casino-hopping down the strip. Also worth noting is that depending on how elaborate the casino was the prices would always raise, but the chances of winning more money were higher.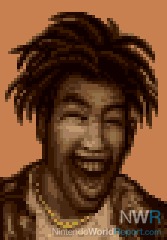 Does his smile hide good intentions or Satan's evil deeds? You will never know until you give him your trust.


But the one thing that I always remember vividly about Vegas Stakes was the people you would meet while gambling the night away. Every once in a while, someone would bump into you and ask for monetary help. Afterwards, you would learn if the decision was a wise or foolish one. This served to test your judgment of character, as some of the characters range of psychotic looking weirdos to girls so cute and innocent you would give them the deeds to your house if you could. Some were even expert pick pockets that would rob you blind! This is something I've yet to see in any other gambling simulator. It is really unique and added a lot of character to a game that quite possibly was drowning in it. They would always go directly to the gambling activity, ignoring the option of creating the pleasant atmosphere most casinos have.
That's not all, though. The goal of the game is to try and reach 10 million dollars. If, by some sort of miracle, you obtained that much money, the game would end. It then asks you to type out a dream you have. Once again, if you were immature, you wrote something like "I want to be a Power Ranger" or "I want to **** a hot chick!" It ended on a ton of hilarity!
The music to Vegas Stakes was also really good. Considering that when you are gambling you mainly care for the odds and the money you are making or losing it is impressive how HAL Laboratory went above the call of duty to create music that was representative of the whole experience.
So really, Vegas Stakes was a game I never played for just the gameplay, but the atmosphere, characters, and the story it told. So much so that I actually bought it when it was released on the Wii's Virtual Console section of the Wii Shop Channel a few years back. It was a great way to convince someone not interested in gambling into spending time with these dreamers and party people who just want to spend their money on the famous Vegas casinos.
Remember, whatever happens in Vegas, stays in Vegas…even in a digital representation of it.