Nathan plays Super Mario Bros. for the first time, as he begins to visit classic games he missed the first time around.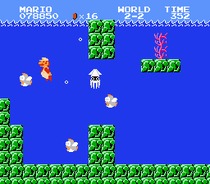 Extra Life is a weekly column focused on giving games a first, second, or third chance. Each week, someone will look at a game they missed, remember fondly from their childhood, or just thought was passed over. It could be a game that received universal appraisal, or one that seemingly nobody played.
Let Me Explain Myself
Growing up, my house was a house free of video game consoles. When I say growing up, I mean to say that I did not own a console until the months before I entered high school; a GameCube was my first. The reason for this deprivation was a common one: fear of a young Nathan rotting his brains out.
I didn't grow up without games entirely, quite the contrary. For some reason, my parents found it safe to give me my father's Game Boy when I was still a toddler. From that point on, my parents became the largest consumers of batteries in the greater Los Angeles area. Playing console games was a thing reserved for visits to a friend's house or the occasional birthday. My parents figured that however much I played the Game Boy, it couldn't amount to the damage that having a permanent video game featured in the living room would cause.
I reached high school without spending serious time with the many great games most people my age know and love, and it wasn't until the Virtual Console launched that I had a legitimate way to play them.
Certainly, there are many gamers like me, those who somehow missed out on the console greats of yesteryear. It is with people like this and my own personal history in mind that I have set out to play the games that I played far too little as a child, and in many cases the games that I have not played at all.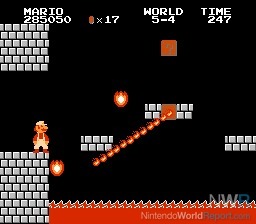 Square One
I begin my venture with a game that up until recently I had played only in passing, Super Mario Bros. This seminal platforming title was first released in 1985 on the Nintendo Entertainment System and went on to become the title that to this day defines video games in the minds of many. We all know about the basic rules and structure of Super Mario Bros. through either experience or osmosis, but as someone who learned by osmosis, I was surprised to see just how much I didn't know about this classic.
A Whole New World
Going in to Super Mario Bros., I had somehow worked out that it would just be a color version of Super Mario Land from the Game Boy. Imagine my surprise to see that I had an entirely new Mario adventure to set out on. Soon after, I started noticing some other fundamental differences.
The jump has much more gravity to it in Super Mario Bros than in other Mario titles; I feel like I have less control in the air and almost no control upon landing. If you make a risky jump at high speeds onto a small platform, the chances of slowing down in time to not slide off are slim- you just have to keep jumping. Fireballs stay close to the ground, whereas in Super Mario Land fireballs would bounce just once before shooting off into the sky. Most, if not all platforms are solid both ways, meaning that you cannot jump up through the bottom of a platform.
Visually and aurally, this is also a new experience. Of course, the addition of color was the primary shift from Super Mario Land, but the classic Mario music was a welcome change coming from the often grating jazzy jingles of Super Mario Land.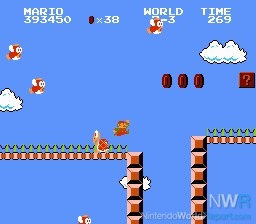 Some Things Never Change
If you haven't already, playing Super Mario Bros. won't completely throw you for a loop. The game is structured into eight worlds, each containing separate levels within. While there is no overworld map, this is a structure that has mostly stayed constant throughout Mario's two dimensional adventures. All of your favorite enemies are present: Goombas, Koopas, Hammer Bros. and even Lakitu. Of course, they can be killed with a good jump to the head.
I found that my greatest disappointment with Super Mario Bros. was in the relative homogeneity of it all. After beating Super Mario Land, I felt like I had gone on a whirlwind adventure across the insane globe of Sarasaland. While Super Mario Bros. does have above-ground, underground, and castle levels, it is apparent that this game laid the basic framework for games to come.
You're Killing Me…
Super Mario Bros. is a startlingly short game, provided you don't die all that often. The game is alarmingly difficult, even coming from the tricky stages of Super Mario Bros. 3. I found that more so than ever, memorizing what was to come was the key to my success. If you forget that the jump ahead lands you right in front of a Hammer Brother, you may very well suffer a hammer to the forehead.
The constant dying wouldn't be all that bad were the game not so stingy with lives. If you don't collect any 1ups, it is three lives and you're out. You cannot run backwards to parts of the level that have scrolled by, and you can't even store extra power ups to use before a level begins. To top it all off, there is no saving your game, so you had best do everything right the first time.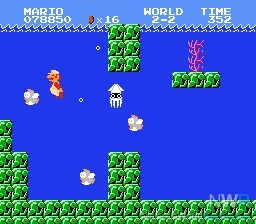 … But I Like It.
After getting accustomed to the nature of this game I grew to like it as much as the other Mario titles I have played. Pulling off sequences of well-timed jumps within Super Mario Bros.' rigid framework is difficult but rewarding. Each level feels much less free-form and much more about the execution of a game plan. Sure, you can play any Mario game like that, but it is the only way I could play Super Mario Bros.
I can't say that I was surprised with how much I enjoyed playing Super Mario Bros. After all, I have been playing Super Mario Bros. 3 almost ritualistically since purchasing it for the GBA.
I can say that I was surprised with just how little Mario has changed over the years. When I realized that it wasn't the same as Super Mario Land, my immediate reaction was to expect this game to be even more archaic. This wasn't the case at all. While it is certainly more tightly structured, and features less mechanics than current Mario games, the core game has remained mostly the same.
I am not sure how I feel about this. On one hand I am glad that the brilliancy of Super Mario Bros. has held up so well over the years, and on the other hand, New Super Mario Bros. now seems a little less new, and a little more iterative.
Super Mario Bros. is a treat to play, I encourage those that missed this gem to take some time and play it. If not to play the whole game through, then just to have a sampling of what is an undeniably splendid title.
Welcome To Warp Zone
I hope you all enjoyed my outing with Super Mario Bros. I certainly had fun putting in the preparatory play time. See you next time for another Extra Life!