Using April Fools Day to break a multi-year silence on a game people already paid for is outrageously disrespectful.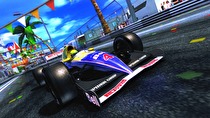 April Fools Day is a minefield of our own creation; brands throw out "ideas" into the world that are obviously farcical, selling us on the prospects of a vegan-friendly Doom sequel or a new Atari console in 2019. Social media just gave companies more tools to wear these jokes into dust. At their best, April Fools jokes can be a chance to laugh with your audience.
At their best, they reinforce your image.
At their worst, they confirm it.
Nicalis decided today was a good day to confirm that they disrespect their customers.
Way back in January 2013, when massive Kickstarters seemed to inch the bar ever-higher, a one-man studio launched a campaign to fund his vision for a PC/Linux racing game inspired by the arcade offerings of 1990s Sega. Antonis Pelekanos, the developer, appropriately named it "The 90's Arcade Racer." While not a roaring success, the game managed to hit its £10,000 goal with about a week to spare.
An update on February 11 announced that indie publisher Nicalis signed a deal soon-after to publish the game.
Tyrone Rodriguez, Nicalis' front man, touted the work "Anthony" had done and his own experience with racing games. He spent his first update as publisher assuaging concerns about handling, promising "Anthony and I won't stop until we get the tuning just right." Then, almost flippantly when compared to the time spent praising his own accomplishments, he casually included notice that The 90's Arcade Racer was headed to Wii U.
The pop was immediate.

Thanks to Kicktraq for the graph.
Funding closed with exactly 700 backers and over £16,000 raised. The estimated December 2013 release would go unmet, but Kickstarter updates would continue sporadically into 2014. An update in May promised that things were on schedule, and that The 90's Arcade Racer was up-and-running on Wii U at a smooth 60 fps.
Two updates in August gave hope that things were moving apace, but silence settled in for another two months.
An update in November gave way to another two months of silence.
A February 2014 update promoted the development progress of the Wii U version and provided the first mention of a "mid 2014" release target.
Six updates spread across the entirety of 2014 would tease new hires, and offer up new screenshots, but the mid 2014 date came and went.
Four updates in 2015, including the first video of the game in motion, and then nothing.
The updates stopped.
Pelekanos moved onto a different Sega-inspired game, The TakeOver - an homage to Street of Rage. And in May 2016 Nicalis changed the product page of The 90's Arcade Racer, to a new title Super 90s GP, and replaced the Wii U logo with PS4 and Xbox One logos. The game would eventually also list Switch as a target platform, but updates essentially ceased from that point forward.
It's easy to find people reaching for comment. Pelekanos Deviant Art page is flooded with people demanding updates, refunds, or some form of relief. Even The TakeOver's Steam profile was not immune, leading Pelekanos in May 2016 to promise an update that never came.
Rodriguez and Nicalis' twitter profiles were consistently being pinged for updates.
@tyronerodriguez I'll look forward to #90sSuperGP for the #NintendoSwitch whenever possible.

— TDude73 (@TDude73) August 15, 2017
Yo @nicalis, when can we expect to hear an update on #90sSuperGP? I really need some arcade racer goodness on #NintendoSwitch! pic.twitter.com/D9MNDvGbIf

— Joshua Michael French ジョシュア (@JoshuaMFrench) August 13, 2018
Or just trolling.
Amazing news! Congrats!

Please can you pick up 90's Super GP from @nicalis as they seem to not want to release it and hoard the game forever! 😭 #90sSuperGP pic.twitter.com/66YbOudFSa

— Mark Kearon #TeamLH 🇬🇧 (@Marky264) March 1, 2019
Updates didn't come. Their re-branded page is shockingly bereft of information. They've not shown anything new in years. Super 90s GP isn't just vaporware, it's vaporware they already took money for from 700 people.
To Nicalis, these people are customers. Customers who paid for this game six years ago.
Backing a Kickstarter is inherently a risk. The entire concept of Kickstarter was for small teams of creators to find financing to work on their dream. It isn't an investment, but it isn't supposed to be pure gambling either.
But that no longer applies to The 90's Arcade Racer.
Once Nicalis made their involvement known, once this was no longer one man in Greece working on a dream project, this all changed.
Nicalis became responsible for bringing this game to market. They put their name on this project. They advertised a platform it would never actually reach. They took this game from a one-man project to a project backed by a successful and established publisher. And as a result, Pelikan13, the one-man development studio, received a 60% surge in backer funding.
So where is Super 90s GP? Only Nicalis knows.
While their actions were already disrespectful to their backers, and updates are long overdue, the title would not even touch their lips until April 1, 2019.
April Fools Day.
Super '90s GP is coming.

— Nicalis, Inc. (@nicalis) April 1, 2019
Earlier in the day, they promised that "one" of their tweets was true. Given the silliness of the day's other tweets, it seems unlikely to be anything but Super 90s GP.
It's almost worse if it is true.
Six years after using their name to juice donations.
Six years after Rodriguez uses his self-described history as a racing game expert to promise a delivered vision.
Three years since any meaningful information.
Nicalis decided to leverage the gaming industry's tired meme of April Fools announcements to make a jaded jab at their own failure to provide updates. "All those years you've waited, isn't it funny?"
It isn't.
I lashed out at Nicalis on Twitter, calling them things inappropriate for this format, but settled on "laughing stock." And it's true, in intervening years Nicalis has become something of a punchline for a history of late and cancelled ports. Cave Story + took two years to reach Europe, Nicalis had La-Mulana for WiiWare under contract and failed to reach market (EnjoyUp ultimately succeeded in months), 1001 Spikes took over two years to make it to Wii U. Simply put, they have a execution problem.
And right now they have a group of resigned customers. Not angry, resigned.
Found your tweets, I've been reaching out to them with no response for years. I feel a very similar anger and frustration. This is shitty. I feel so powerless. This KS is much worse than most that got bad press but I feel like there's nothing I / we can do.

— Chris (@MykonosFan) April 1, 2019
This is not how you treat someone who gave you money. This isn't even how you treat someone who is just casually interested in your product. This is how you poison your brand.
Nicalis has published a lot of games in the intervening years. And while making this kind of joke is incredibly tone deaf, and only proves their PR is profoundly broken, it ultimately doesn't make the game any closer or further from release.
For Nicalis to have commented on the state of Super 90s GP on March 31 or April 2, it wouldn't make a difference. It's still far too little and much too late. To deliberately pick April 1 is an insult.
To Nicalis, your actions don't just impact you, they impact the industry. They impact the developers with whom you're associated. They impact developers looking to use crowdfunding. They impact your partners and employees. They impact your customers.
Do better.