Blink and you'll miss the chance to play Splatoon 2's new mode, as it's available less than half of the time.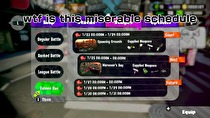 Well that was a fun weekend of Splatoon 2. I got some Turf Wars in, dabbled in Ranked, and fell deeper in love with Salmon Run, the brand new horde-style mode. Now that the weekend is done and I head back to the weekday grind, I'm looking forward to coming home from work and sitting down with some four-player co-op Salmon Run at my leisure. Wait, why are you laughing? Oh, is it because Salmon Run is only open at certain times? Surely, it's available the majority of the time, right?
Unfortunately, that's not the case. During this week - the first full week that Splatoon 2 is out - you can play Salmon Run less than 40% of the time. Out of 168 possible hours from Monday July 24 in the Eastern time zone to the dawn of July 31 in the same time zone, you can only play Salmon Run for a total of 66 hours out of a possible 168.
Break it down further and it's even bleaker. Granted, since these are worldwide times, they might be better in other locations, but focusing just in my home region, the weekday times are during the middle of the night or during the workday. If I wanted to play Salmon Run during the week, my options are Tuesday between 8 a.m. and 8 p.m. and Thursday between 2 a.m. and 2 p.m. At best, I might be able to squeeze in some time at the beginning or end of those times. Even including the technical four hours of Salmon Run kicking off at 8 p.m. on Friday night, you can play Salmon Run about 25% of the time between Monday and Friday.
When you reach the weekends, it's not even constant either. A 24-hour event runs from Friday at 8 p.m. to Saturday at 8 p.m. Another round doesn't start until 24 hours after that, so your chances of playtime Sunday are limited. If your personal schedule doesn't align with Salmon Run, odds are you're not going to be able to touch the mode regularly.
I can only speculate as to why Nintendo made these decisions to limit Salmon Run. Maybe it's to make it more of an "event" similar to Splatfests. Maybe there was a fear that another regular mode on top of the division between Turf War, Ranked, and League would thin the community too much. Maybe the bonuses and rewards might be more overpowered if people grind it? I don't know and frankly, I don't think I really care what reasoning might exist. You can't even make a private online Salmon Run match with friends during off hours.
The entire schedule issue is disheartening. Salmon Run is likely my favorite part of Splatoon 2 and I have to set my calendar and make appointments if I want to play it. Nintendo released a brand-new game last week, and days later, one of its major new modes is gated more than half the time.
Note: Totally aware I can wizard up three other friends with copies of the game and their own system to play it locally. Speaking of which, if you're in the New Jersey area, let's like go meet up in a park and play this game. That'd probably be more convenient to my schedule than online Salmon Run.