Specifics are still scarce, but the vision is becoming clearer.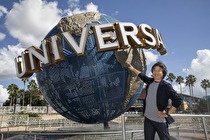 While we've known about Nintendo's plans to work with Universal Parks & Resorts to make Nintendo-themed attractions for the Universal Studios parks for a while now, today we got the first concrete information of the intention to bring that Nintendo magic to the parks in Florida, California, and Japan. And that's about all the concrete information we know.
The focus of the future attractions seems to be on Mario. As stated in Nintendo's press release: "Imagine the fun of stepping into a larger-than-life Nintendo adventure. Gigantic Piranha Plants spring to life. Question blocks, power-ups and more surround you. And Mario and all his friends are there to pull you into a brand-new world."
While the rest of the text includes reference to legendary worlds and iconic characters, the only series called out by name is Mario. Gigantic Piranha Plants. Question blocks. Mario and all his friends. Even the accompanying video shows nothing but Mario paraphernalia. That doesn't rule out some representation from other Nintendo characters and franchises, but it certainly paints a picture of expectations. We're probably eying a heavy Mario focus with a themed shop and eating area, a showcase ride, and maybe some smaller experiences.
Predictions and dreams aside, we're still lacking the specifics of where this Nintendo area will go in each park. The press release stated we should be hearing more about that very soon, but we now know more details as to what the overall vision is. The Nintendo-themed areas, coming to all three of Universal's parks, will be "immersive and interactive" with an array of attractions, shops, and restaurants. The goal, reiterated numerous times throughout the video and text, is to make visitors feel like they're inside of their games. To a lesser extent, Nintendo's been doing similar things at E3 and other events for years. Their entire booth at E3 2016 was essentially a themed Zelda area. In recent years, Mario, Zelda, Donkey Kong, and more have had interactive photo ops.
But even with the excitement of the video today, we're still years away from these attractions becoming a reality. For example, the Harry Potter area in Universal was first announced in 2007 and didn't open until the summer of 2010. And most of that wasn't brand new ride creation; it was repurposing pre-existing rides. Similarly, Disney announced an Avatar-themed area in 2011, construction started in 2014, and it should open in the summer of 2017. Construction of these massive theme park areas takes time, and even an aggressive estimate for when the Nintendo area opens places a launch roughly two years away. It should be a fun few years, though, as we track and follow this bold step forward from Nintendo. This could be a legitimate Nintendo Land, and that'd be awesome.