Worlds collide as gaming comes to the European Space Agency as No Man's Sky begins its pre-release tour.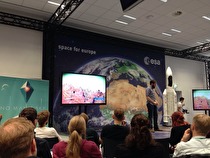 Today there was a press event for No Man's Sky held at the European Space Operations Centre (ESOC) in Germany, part of the European Space Agency. It just so happens to be my workplace of the past seven years. After I had finished processing my disbelief and confusion that ESOC security would allow Sony PR to hold an event here, I slipped into the press centre to find an audience of German games press and the only ESA representation being Michael Khan, from the Mission Analysis section, who would be on stage to talk about planetary exploration and the ExoMars mission. A couple of my colleagues who had the same idea as I did also managed to sneak in. It turns out we were most definitely not invited, but the door wasn't locked and my usual "walk in like you're meant to be there" meant that we were largely ignored.
I arrived to find that Sean Murray of Hello Games was on stage talking about No Man's Sky. Apparently he was coming off three hours sleep in the last three days (it is well-known that the team have been working on a day one patch) and his flight to Germany landed just the evening before. He talked about the game and demoed the start of it. While it is expected that it will turn your expectations upside-down in comparison to how other games are played, and almost literally in the case of some enemies, the game represents the sandbox style of allowing players to explore at their own pace and extract the fun in their own way. You start on a planet at the edge of the game's universe with some incentive to make your way to the centre directed by the game's lore. The current goal can be brought up with left on the D-pad giving a clue to where you can move to next. The sense of discovery in what you can do and features (such as the crafting recipes that you can figure out) were not shown, leaving surprises for players. Murray hopes that the community around the game will help players to figure out what is possible. The result today comes after five years of development but though the game is not perfect, it was time to go public. It is not expected to be static, and as long as there is interest there will be updates to change the game in the future.
I did have a chance to play the game a little. Despite not faring very well at sandbox games usually, I found it quite easy to get into after getting over the initial awkwardness at exploring in first person rather than third person. I found what was currently possible and what I should do from navigating the menus, where there are instructions and tips so you won't forget how something is done. Shortly after my time was up and I had to concede my place at the demo station to the journalists who were there that day.
I could feel the excitement run through me as I watched the presentation at high alert in case I caught something exclusive, even though that's not what I was there for. When you spend the best part of a decade as part of a group pushing for the best possible games coverage, it never goes away. This is what lead me to write my first "proper" article in three years. I hope to see you again soon.
Karlie's first articles for the site were published in 2001. She remembers sending SMS updates during conferences for others to type up, there was no such thing as mobile internet or social media then. She still identifies with this "old school" world where the writing was all you had. Follow her at @nwr_karlie.