It seems odd that a Kingdom Hearts character is in Super Smash Bros, but work with me here.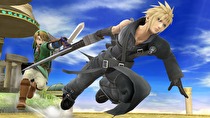 So last week, the newest character for Super Smash Bros Wii U and 3DS was announced. This made a lot of people upset and was widely regarded as a bad, or at least questionable move. Cloud Strife - the spiky haired swordsman of Final Fantasy VII infamy – came into the Smash Bros roster like a bat out of hell, leaving scorched message boards in his wake. Forty years of darkness, earthquakes, volcanoes, dogs and cats living together, mass hysteria and the uncle who works at Nintendo was actually right for once (or so GameFAQs claims).
The immediate question – aside from "What the hell?" was "Why Cloud?" He's the star of the biggest game in PlayStation history, a game that screwed Nintendo for nearly a decade. And if you want to put a Final Fantasy character in, why not use Cecil for fun with class switching or Sabin so he can Suplex the entire Spirit Tracks stage on the 3DS version? Rather than chalk it up to "Sakurai does not give a flying fadoo what you think, if he wants it, it happens", there's a few reasonable explanations for the choice.
For one thing, Cloud has a history with Nintendo systems aside from wrecking them. He made his Nintendo debut with 2004's Kingdom Hearts: Chain of Memories for the GBA. One of the many, many interquels in the Kingdom Hearts franchise, Cloud starts as a boss in the Olympus Coliseum in a reprise of his role in the original game. Later, you're able to summon him in battle as well. 2011's Kingdom Hearts: reCoded also features a simulation of the Olympus Coliseum, with a playable Cloud. He's a selectable character in both of the Theatrhythm Final Fantasy games, with Curtain Call even paying tribute to his most well-known movie role. Finally, he's a playable character in the upcoming / released in Japan Final Fantasy Explorers, so he'll keep up appearances on Nintendo platforms way better than say, Snake did following Super Smash Bros. Brawl.
There's business factors at play, as well. The announcement not only crippled a prominent internet message board, it nearly brought down Reddit as well. This got major attention on the Direct, to the point that it's on pace to hit E3-levels of post-Direct viewership. And at the end was the announcement that Cloud was just the TEASER for the last dedicated Smash Direct next month, so they're able to take a highly popular character and turn him into an ad for a future show. That's way more effective than Hungramps taking over Bill Trinen right before a big meeting. A lot of eyes will be on that Smash Direct to see when Cloud will release, and see what other insane announcements could happen. If a character so associated with Sony platforms can be put into Nintendo's mascot fighter, all bets are off. (Unless you're a manga fighter, so chill out – Goku is not walking through that door.) The point of a Direct is to advertise, and there really isn't another character who would bring this level of hype across the world.
If you look at Super Smash Bros titles as a love letter to the history of Nintendo, Cloud is the invader. His game originally started out on the N64, and like it or not Nintendo's gaming history includes a giant downturn right around the time of Final Fantasy VII's release that Ocarina of Time was only able to arrest for so long. I for one will be picking up Cloud even though I'm not a big fan of his character from the PC version of Final Fantasy VII; he'll bring a cool stage in Midgar and serve as a change of tackling dummies from Bowser Jr and Villager.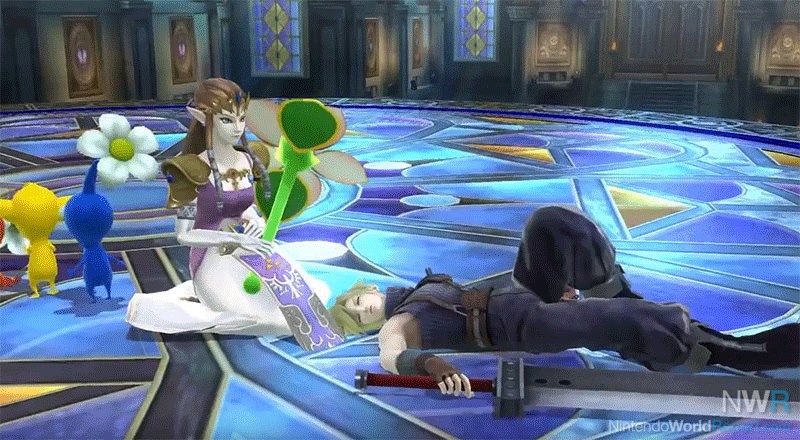 The one thing it's dangerous to assume though is the Final Fantasy VII remake in the works coming to Nintendo's next console (or the recent Steam update of Final Fantasy VII coming to the Wii U). Although the relationship between Nintendo and Square-Enix seems to be at its best point since the era of the Super Famicom, relationships or "unprecedented partnerships" between Nintendo and 3rd parties can turn on a dime. Don't believe anything about that remake coming to the next Nintendo console after PS4 (who gets it first) until they announce intentions and a release date. And given the remake is being directed by Tetsuya Nomura, director of such fine products as Final Fantasy Versus XIII and Kingdom Hearts 3, hope that the date is sometime this decade. As it is, we'll take the Dragon Quest remakes/XI and hope that leads to something down the road.
Nintendo's been handed a major marketing advantage with one of the world's most popular RPG characters coming to Smash. It's on them to keep the momentum up with the final Smash Direct and any announcements beyond that. Either way, there ain't no gettin' off of this train we're on, so sit back and enjoy the ride.