It takes more than a slew of game trailers to make a good impression at E3, you need a coherent message to tie it all together.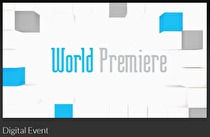 Nintendo started strong with their E3 Digital Event this morning, but halfway through it really felt like they'd lost their narrative thread; I'd lost the exhilaration I'd gained from the event's charming puppet-based intro and Star Fox reveal. My game purchase plan this holiday is already more than I expect to be able to play, and Nintendo's announcements aren't making things any easier. Still, my energy level while watching the Digital Event just seemed to drop halfway through.What went wrong?
Listening to my co-workers discuss their own reactions to the event, I found myself agreeing: Nintendo failed to tell us a story at their E3 Digital Event.
Admittedly, Reggie did try to establish a theme early on: transformation. That makes sense with Star Fox, Skylanders, Mario Maker to some extent, and maybe even Tri Force Heroes, but only with some effort. If transformation was going to be their theme, why didn't they keep on mentioning it after Reggie's little talk early on? Nintendo simply didn't stay on point.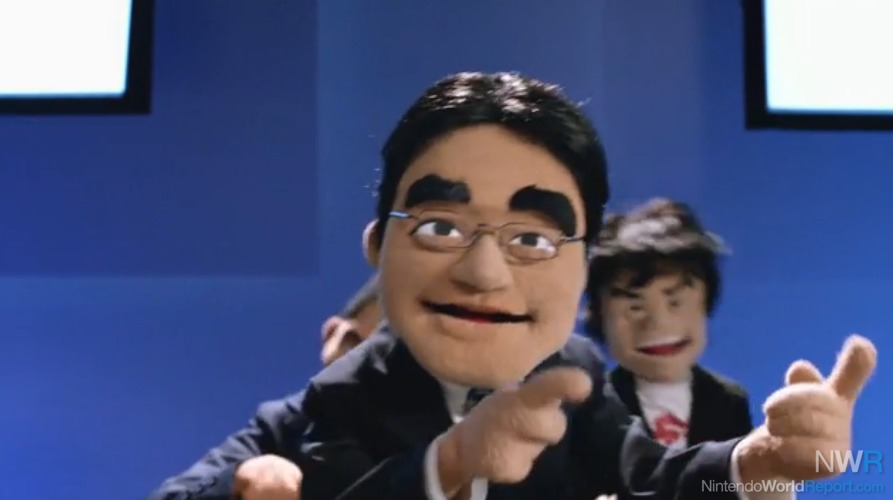 The puppet form of Nintendo executives kicked the event into high gear early on, but the novelty didn't carry on throughout the whole length of the show.
There were also a lot of miscues in the show. The constant teasing of a little Mario Maker gameplay before Mario put on some other costume really threw me for a loop every time. Sure, its a neat surprise, but the bait-and-switch really made it hard to prepare myself for what was coming next. It's Mario... no it's Link! It's Mario... no it's Marth! I'm sorry to say it, but I much prefer the old staid way of simply announcing that they're going to show us a trailer, and fading the screen to black.
And can anyone explain to me the segment at 23:35 where Puppet-Iwata is doing some breathing exercises into the camera, and then uses what appear to be Jedi powers to turn around and "force push" Puppet-Reggie? Perfect time to jump right into an unexplained trailer for Metroid Prime: Federation Force, right?
The fact that there was no accompanying talk to the Metroid trailer was really disconcerting; one of the strengths of Nintendo Direct style events is Nintendo's ability to take a breather and walk through some of the thinking and themes in their games without trying to constantly trot eye candy out in sharply cut trailers.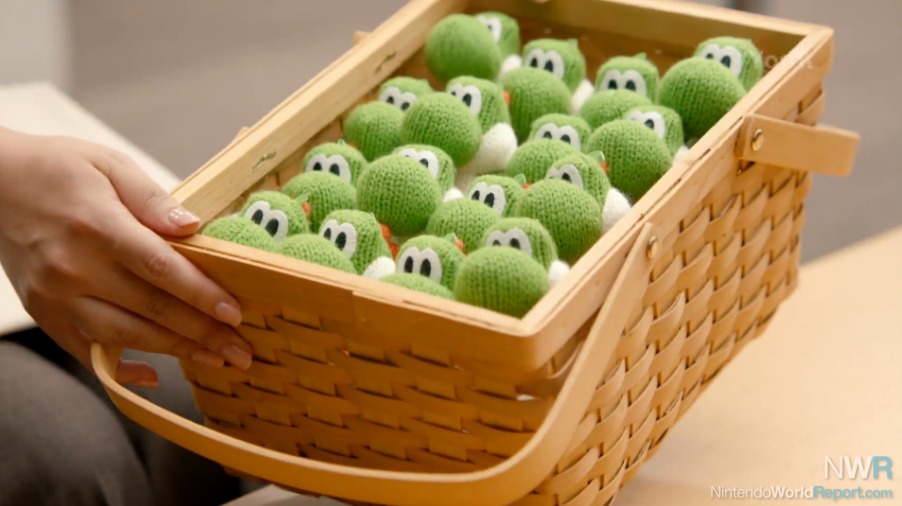 In my humble opinion the event could've benefitted from far, far more Amiibo.
By that point Nintendo had outright declined to give us any context or relatable stories for six trailers in a row: Metroid Prime: Federation Force, Fire Emblem Fates, Shin Megami Tensei X Fire Emblem, Animal Crossing: Happy Home Designer, and Animal Crossing: Amiibo Festival. It's not until almost 10 minutes later that we see another real human being with real stories to share with us: Nintendo's Emi Watanabe with the story behind Yoshi's Woolly World. And then we were slated for another stream of trailers without context.
Afterwards they FINALLY get around to talking about Mario Maker and not teasing it before showing another game. And Reggie returns to try to remind us that this is about transformation, and doesn't even say goodbye or thank you after it's all done.
Now, there's always a temptation to say that Nintendo should've shown this or that title in development (Zelda?) or revealed this or that project (ZELDA!!!), but I really don't believe that they lacked for content with their Digital Event. Instead, they executed poorly and debuted brand new Metroid and Animal Crossing games without giving them any context at all.

This simple graphic Nintendo sent out was actually much more effective in engaging me than the Digital Event.
They also missed out on significant topics that I believe would've been just as relevant and/or provided more fodder for conversation, like Amiibo (So many Amiibo!). And you'd think it would behoove Nintendo to remind their customers that not all third-party games have fled the Wii U platform and that Just Dance 2016 and Guitar Hero Live ARE valid purchase decisions come Christmas.
Now, the E3 Digital Event isn't the be-all and end-all. A lot of the more human-driven context that I feel is missing from the Digital Event can be found in the excellent Treehouse Live demos that Nintendo is airing throughout the week. And Nintendo won't just disappear - a new Nintendo Direct is sure to come up in a couple of months for them to get back on message and really focus on the holiday season.
But as a Nintendo gamer looking to learn about just how excited I should be getting about the numerous games that have landed on my Fall 2015 radar (Somebody sell me on Animal Crossing: Happy Home Designer please! I'm THIS close to pre-ordering!), I was expecting Nintendo to do a far better job getting me pumped up at their Digital Event.