You want to mount monsters? You can do that easily with this weapon.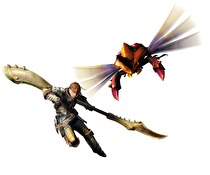 Every so often, I poke around to see what other people are saying about Monster Hunter 4. There are some people that are experienced with the series that seem to be speaking a different language. While I'm totally gripped by the single-player campaign in Monster Hunter 4 Ultimate, my knowledge of the metagame and the hardcore post-game portion is limited. So, when I elucidate about different weapons and strategies, just know there is a chance that I'm wrong. However, I'm relatively positive that the Insect Glaive is incredible and I think you (yes, you) should totally use it.
The beauty of this staff-like weapon is that it fuses melee and ranged attacks in interesting ways. Up close, you can pummel monsters with simple combos from the staff. From afar, you can fire off your Kinsect to do some damage and get you "essences." These different essences gives you buffs in the heat of the battle ranging from improved stamina to improved damage. As you learn the ins and outs of each monster, you can cherry-pick what essences you want to draw from to get the optimal boost.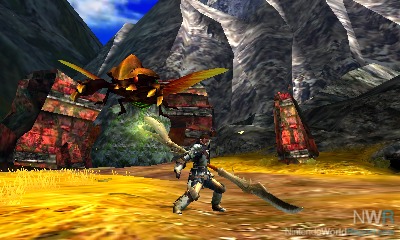 The hands-down best part about the Insect Glaive, at least where I am in the game, is the vaulting capability. One of the new aspects in Monster Hunter 4 is the ability to get vertical and mount enemies. While you can't jump by default, you can leap off of cliffs and land on top of enemies for major damage. With the Insect Glaive, you can vault at any time to get the high ground on your foe. It's an easier way to try to mount enemies that comes in handy when you're trying to get the upper hand on one of the countless sons of bitches you fight in the adventure.
Before the Insect Glaive, I used the Dual Blades. I loved how quickly you could attack, but they are on the weaker side. I also messed around with the Charge Blade, but I felt it wasn't as quick as I wanted to play. I want to toy with one of the guns at some point, but I don't think I want to give up the down-and-dirty play style I've developed.
What weapons are you using in Monster Hunter 4 Ultimate? Are there any really neat ones I should check out? I want to know. I love this damn game.