This late Wii game is secretly an amazing board game starring Mario and Dragon Quest characters.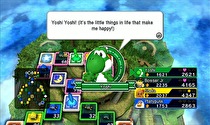 I first discovered Fortune Street at E3 2011, when it was revealed that the Wii version of the long-running Japanese series Itadaki Street was coming to America. Fortune Street, for better or worse, is a game that demos horribly. With no one on line for it, I wound up playing it on the last day of E3 that year. All I really remember about that demo was that the writing for each character's trash-talking smack was dumb and funny. It didn't stay on my radar after that.
Fortune Street ended up launching discretely in late 2011, weeks after Skyward Sword was the "swan song" of Wii. Our own review was pretty high on the game, calling it "the definitive Wii board game experience" and trumpeting its depth and strategy. Like most Wii owners at the time, I wasn't paying too much attention to this seeming Mario Party rip-off.
Eventually, I bought it for cheap and tried it out. I was almost instantly blown away. Fortune Street is the best version of Monopoly ever made. The basic mode is essentially just Monopoly. You buy properties, you invest in those properties, and you try to make money while bankrupting your friends. All of this is set in an awesome Mario and Dragon Quest wrapper, featuring a variety of characters (Platypunk! Waluigi! Yangus!) and settings (Spaceship Mario! All-Trades Abbey!) with an excellent soundtrack.
Then, I tried it with the regular, more complicated rules, and I was even more infatuated. The major addition for this set of rules is the stock market. You can buy stock in different districts, meaning you get a cut of every sale in that area as well as an increased stock value if someone invests in it. Imagine if you're playing Monopoly and you've got one friend with Park Place and Boardwalk. Well, if that were Fortune Street, you could quickly buy stocks in that area so that way when he inevitably buys a house and a hotel for his monopoly, you benefit as well.
The stock market adds a very complicated but strategic layer to the proceedings. Fortunately, this is a video game and the math is done for you, so you don't need to worry about the minutia of who owns what stocks and how that changes when people build on a property.
It's all so much fun, and it's kind of depressing that, whenever I bring this game up, most people stare at me blankly. It seems like a lot of Wii owners just ignored it, whether they wrote it off as a Mario Party clone or just stopped paying attention to the dying system at the end of 2011.
Fortune Street is a lost multiplayer classic from last generation, one that hearkens back to straight board games (none of that Mario Party chicanery). Because it came out late in the Wii's life cycle, I doubt Fortune Street sold that well. That's a shame, because that might mean that if/when the next Fortune Street is made for a Nintendo system in Japan, it might not come to America. If that's the case, then we're all missing out, whether you know about the wonders of Fortune Street or not. (Note: there is an iOS version but apparently you can't play any multiplayer of any kind.)