Dance like Darunia, throw a Chain Chomp, and open treasure chests with a mulleted Ganondorf.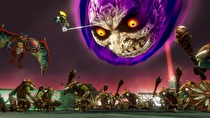 During last night's Nintendo Direct for Hyrule Warriors, I was enamored with the overall insanity of the entire experience. It's neat seeing each character do their thing, whether it's Zelda firing off a light arrow, Ruto riding water thanks to a Zora Scale, or Agitha using insects to knock moblins around. It's fun to see the little nods to past Zelda games, like the chest opening animation being done by Ganondorf, or the Fierce Deity Mask badge that can be equipped. One prevailing thought kept running through my mind during all of this: Hyrule Warriors looks so dumb in a really excellent and fun way.
Much like a lot of people out there, I've never been big into the Warriors series. I've dabbled in a few, most notably Samurai Warriors Chronicles on 3DS, but I always fade away quickly when I sit down to play them. Something tells me the added fan service of Hyrule Warriors might be a way to keep me around longer, as I unlock different characters and weapons, forge new items, and traipse through the deliciously retro Adventure Mode. It just looks so unfathomably goofy and self-aware.
Adventure Mode, which was first detailed during the Direct, doesn't seem like it'll deviate much from the Warriors gameplay. Despite having a world map inspired by the original Legend of Zelda, it just takes you to challenges in regular levels from the rest of Hyrule Warriors. However, that wrapper might be something more compelling for people who aren't as into the lengthier affair that the story might present. Adventure Mode might be something better for the sect of gamer that is interested in Hyrule Warriors because it is a Zelda game.
Still, I think for me, the dollops of Zelda fan service are all I need to keep me going through Hyrule Warriors. It might not be for every Zelda or Nintendo fan, but the wild worlds-colliding story, absurd finishing and special attacks (for real: you hookshot the moon from Majora's Mask), and the hunt for unlockables sure as hell get me excited.
Although, if Tingle isn't in Hyrule Warriors as a playabe character, I don't know what's going on at Nintendo and Koei Tecmo. They have one job. I trust they won't leave out everyone's favorite creepy old man elf thing.