The new Zelda game on Wii U will have an open world. Is that all the franchise needs to do to truly evolve?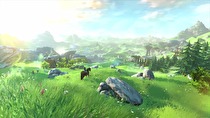 E3 2014 has come and gone, and with it we've received news of a new open world Zelda title. A fresh entry in the Zelda series is always exciting, but the announcement of this new direction holds many exciting prospects. The question, however, is how can Nintendo's star franchise stay relevant in a world that already has sandbox games such as Assassin's Creed, Skyrim, and will have Dragon Age: Inquisition and The Witcher 3? Is being open world enough, or is there something more than draws people to these games? Is the freedom of a sandbox with enemies and dungeons what draws us to fall in love with franchises... or is it something less tangible?
After all, Watch Dogs has an open world full of things to hack, but the response to that game was lukewarm at best and apathetic at worst. Watch Dogs may have sold well thanks to initial hype, but as a franchise it seems to have missed the qualities that will give it longevity. So, how can the new Zelda avoid that pitfall and breathe new life into Nintendo's star franchise?
I remember the exact moment I fell in love with The Legend of Zelda series. I had finally convinced my parents to buy me a Game Boy Pocket and a game my friend recommended: Link's Awakening. I had never heard of the series before, as I never had a NES or SNES growing up, but I trusted my friend's advice.
After slapping the cartridge in and hitting the power button, I can only describe the mental state of my 10-year-old self as "enchanted." As the hours passed, the island of Koholint won me over with simple, yet eccentric characters. Marin's morality, Tarin's unhealthy love of mushrooms, and Mamu the frog's renown singing ability are just some examples of what made the setting compelling.
Koholint Island was a world I could believe in... and more importantly one I wanted to save.
And boy did I try to save it. Even though Link's ultimate goal in the game is to return home by waking the mythical Wind Fish from his slumber, it's clear from the beginning a shadow hung over Koholint.... and as the reigning champion of Hyrule it was my job to snuff it out. However, as I progressed deeper into the game's story, I learned a terrible truth.
Koholint wasn't real. It was a dream of the Wind Fish given life. The price I would pay for returning home was robbing these people of their existence. Marin, Mamu, and even the shopkeeper who kills you with a laser beam for stealing would be gone forever.
So what did I do? What could I do? I kept playing. I finally came face to face with the Wind Fish. He asked me to awaken with him, reducing Koholint into nothing more than a memory. All I had to do was press a button to trigger the last cut scene.
I immediately put the Game Boy on the table and left it there for an hour. With a tumultuous mix of excitement and remorse, I finally watched a final montage of the characters I had grown to love before they were gone forever. I felt regret, but also solace knowing that those characters would live on in the memories of their dreamers, which is maybe where they had been all along.
All of those emotions came from black and white pictures on a 2.6-inch screen. Before that moment, games to me were nothing more than entertainment. They were a fun distraction or a mental challenge, but never emotionally engaging.
Nintendo wisely carried on their character-oriented tradition with the Zelda series. If you notice, the way the Sages in Ocarina of Time are designed to emotionally tether you to their respective regions on the map. Even if you didn't care about the Goron, surely you wanted to help your honorary brother Darunia. Majora's Mask took the concept a step further by designing the entire game around helping people who have their own quirks and desires. You didn't want to just save Termina, you wanted to help its citizens solve their tribulations of love and loss.
Zelda games weren't just fun to play, they were emotionally involving. You didn't just save the world because it was fun, but because it was worth saving. Hyrule, Koholint, and Termina were full of details that rewarded the player for delving deeper into the game. They had a degree of verisimilitude that was remarkable given their hardware platforms and more that gave us reason to come back to them time after time.
Other series in Nintendo's library have also succeeded at this. Donkey Kong 64 may not have had a complex narrative, but the new additions to the Kong family were teeming with personality that only added to the franchise. Even the Metroid series accomplished similar goals with barely any characters to compliment the protagonist. Each game has Samus alone with only her wits and a constantly malfunctioning suit to rely on. You feel isolated and overwhelmed in alien worlds home to a fantastic atmosphere holding the promise of deadly secrets. It's impossible to deny a sense of wonder playing Metroid Prime, but with that wonder comes the palpable need to escape the danger hiding just under the surface.
Now, not every game needs to be emotionally engaging on the level of Ocarina of Time or Final Fantasy VI. Super Smash Bros. and Mario Kart are examples of franchises that are known purely for their exciting gameplay. Indeed, Super Mario 64 is an amazing game that only wished to be a fantastic platformer. Those games have their lauded place in our hearts and indeed the industry would not exist without them. However, over the last generation Nintendo put more emphasis on pure gameplay without the emotional motivation to compliment it. If they make an open world with those tenets in mind, it may not be enough to make us believe in the newest Zelda's open world.
For example, The Legend of Zelda: Skyward Sword exists in a setting that is conspicuously empty. Many of the gameplay mechanics, from flying to swordplay, were fantastic, but I felt myself oddly detached while playing the game. Link was fighting to save the world... but what world really existed to save?
Skyloft was home to a knight academy designed to police three or four dozen people. The surface of Hyrule fared even worse, mostly bereft of civilization save for a conveniently scholarly Goron or small population of woodland creatures. Yes, Groose and Batreaux were compelling characters, but that doesn't make up for an otherwise empty setting.
Yes, on the surface Skyward Sword proved fun to play... but underneath that lied a world lacking in the details of the series' earlier installments. Companies such as Naughty Dog, Bethesda, Irrational Games, and Bioware have only expanded upon what Nintendo and Square pioneered in the 16 and 32-bit eras. We've been given new worlds to explore and new characters to fall in love with. The Wii era placed more emphasis on gameplay and the allure of motion controls, resulting in a stagnation in the emotional involvement of some of Nintendo's most beloved worlds. The simple truth, however, is that emotionally involving narratives and revolutionary gameplay aren't, and shouldn't be, mutually exclusive.
Gaming as a medium is evolving to compete with movies and television. If there is one lesson Nintendo should take away from the last generation, it's that gaming is driven by the passion of the players. Sometimes having nothing more than fun with a game isn't enough; people want fall in love with it. Pure gameplay experiences with quirky visuals aren't always enough to sell a system. Gamers want something or someone whom they can relate. Skyrim became the first Elder Scrolls game to break into mainstream media because it created a believable fantasy world in which people could invest themselves. Mass Effect earned a large and devoted fanbase by populating their universe with thoughtful lore and interesting characters. Nintendo franchises in the current era have struggled to tap into those kind of devoted fanbases. The new Zelda, however, has the potential to remedy that. Nintendo has a chance to make a world that we can fall in love with, and in turn, be excited by... and that approach needn't be confined to the new Zelda.
Should Nintendo begin exclusively making sweeping and complex epics featuring Mario? Certainly not. Many times, less is more (I'm looking at you, Metroid: Other M), but a new narrative-driven franchise could be just what Nintendo needs to gain interest again. Imagine an RPG in the vein of Kingdom Hearts with Nintendo's mascots coming together like they did in the Subspace Emissary. Games like Wii Sports are important, but many gamers are looking for an emotional experience that stays with them long after they put the controller down. They're looking for that moment of hesitation just before waking the Wind Fish. They're looking for a sense of love that tells them to play just one more level. If the new Zelda can give us that... the possibilities going forward are endless.