Read this article for a major surprise announcement.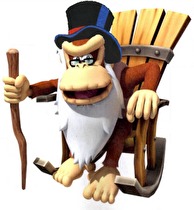 I'm eternally unable to finish writing anything unless I find it utterly perfect. This almost always results in long writing cycles and discarded works. I've decided to challenge myself, in an attempt to break these barriers. My intent is to write small essays (limit of 300 words) about topics I'm not inclined to write about. Hopefully this process does not cause so much mental anguish that I never attempt this again.
Six hours after gaming's biggest self-congratulatory boondoggle, one thing trends on Twitter. Well, two, but we aren't going to participate in encouraging Joel McHale's continual trolling of industry members that, for some reason, pay him to do so.
The one thing trending on Twitter, as I write, is Cranky Kong. It shouldn't surprise, ever since Nintendo of America President Reggie Fils-Aime was announced to be announcing an announcement at the premiere place to make announcements while pretending to be announcing meaningful awards, speculation spiraled that he would be announcing an announcement of announcable scope.
Perhaps we, as game journalists, bear some responsibility for allowing this kind of rampant speculation to continue. In no way was Nintendo going to make a major announcement at VGX, but perhaps Cranky is trending because this is what you wanted. Nintendo couldn't have imagined Scrooge McApe was worthy of such an onion of announced announcements. And while I'd like to speculate that Reggie just wanted to be a troll, it's slightly out of character for him.
No, you all like to speculate. You like for us to speculate. We like to speculate. BREAKING: Reggie Fils-Aime will be at Safeway buying eggs, what's he going to announce?
"My doctor said to avoid the yokes."
We certainly don't like to speculate about announcements because we like being right; if that were the case then RFN would cease doing prediction segments. No, I think we're so starved for the unknown that anything, any little tidbit that this industry can surprise us with, gets us all atwitter (pardon the pun). Even the arrival of a new console generation has not delivered on meaningful surprises.
What is more shocking: another Dead Rising or another Killzone?
The correct answer is another 2D platformer from Nintendo.
"Announcing Yarn Yoshi!"
Oh wait, they already announced that.
Uh…surprise?