Release dates, a new Smash Bros. character, and a surprise or two. Not exactly going out on a limb here.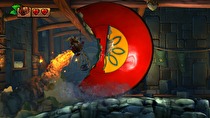 A new Nintendo Direct is coming in less than 24 hours, and the focus will be on 2014. Sounds exciting, huh? I think it does. But just what could be a part of the show tomorrow? (Note: I know the Direct says "previously announced Nintendo 3DS software." I stand by every prediction.)
Let's get the obvious stuff out of the way first. I'd imagine we get a concrete Donkey Kong Country: Tropical Freeze date. I'll be oddly specific and say February 14, just in time for shippers to hype Diddy/Dixie. I'd also imagine that Mario Party: Island Tour gets an early 2014 release date in Europe (mid-January) and Bravely Default and Professor Layton and the Azran Legacy both get North America release dates and/or windows. Let's say January for Bravely Default and February for Layton.
What else could there be? Likely, there will be some surprise game. Nintendo's usually good about that. My guess is it'll be an internal eShop release such as Fluidity: Spin Cycle or Crashmo. I wouldn't be surprised if one of these titles is a December release.
Tomorrow's Direct should also give us a clearer picture of Nintendo's expectations for the first three months of 2014. I think there will be at least one big gun for Wii U and 3DS in March. My guess? Yoshi's New Island on 3DS and Mario Kart 8 or Yarn Yoshi on Wii U.
And there will be some Smash Bros. character reveal. Let's say it's Yoshi. No, he hasn't been confirmed yet. I thought that was weird, too.
This is all probably wrong. Who knows.