With Yakuza 1 & 2 HD hitting Wii U in Japan, could the rest of the franchise follow?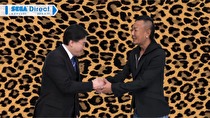 The beginning of the Japanese Nintendo Direct on May 17 was quite a surprise. It began with the good old "Seeeeegaaaaaaa" voice as it started out unexpectedly labeled as "Sega Direct," with the special guest Toshihiro Nagoshi, a Sega CCO. Nagoshi may be best known as the producer of the Super Monkey Ball series, but in Japan he has been the icon and the producer of the Yakuza franchise (Note that real Yakuza executives don't dress themselves like him; rather they always wear dark suits like Iwata, or a better example may be Yamauchi, nicknamed "Kumicho" (Yakuza Boss) by Japanese gamers). On top of a few other Sega titles, what occupied the majority of the "Sega Direct" segment was Yakuza 1 & 2 HD for Wii U. They showed a new trailer and did a short "Iwata Asks" style interview for several minutes.
This announcement appears to have drawn cool reactions from gamers online. It is true that Yakuza is a pretty big franchise—at least in Japan—selling more than 6,000,000 copies worldwide. But Yakuza 1 & 2 are originally PS2 titles, and their HD remaster was already released for the PS3 last year. Why did Nintendo make a fuss over the game? Let us look at this news from another perspective.
The release of a Yakuza title, whatever it is, is also a surprise from a Sony gamers' perspective, as well as a Nintendo gamers'. Yakuza has been PlayStation exclusive throughout its history. Sega made as many as 10 titles (including an HD remaster and 2 portable titles) since the franchise's start in 2005, and all only for Sony platforms. Given that this franchise ostensibly targets adult gamers, it was totally unexpected that it is going to come to a Nintendo platform.
Yakuza 1 & 2 HD for Wii U reminds me of a specific Japan-exclusive Wii title: Monster Hunter G. Like the first two Yakuza games Monster Hunter G was also originally released for PS2, and was ported to a Nintendo console more than 4 years later (in this case, Monster Hunter G was ported to the Nintendo Wii). At that time, Monster Hunter was already huge and PS exclusive, which is somewhat similar to what Yakuza is now. Monster Hunter G sold well for a 4-year-old PS2 port, and more importantly, it served to introduce this series to Nintendo gamers, paving the way for releasing Monster Hunter 3, which is by far the best selling third party title on Wii in Japan. At that time the Monster Hunter Freedom series for PSP was more popular, but since Nintendo and Capcom announced Monster Hunter 3G for the 3DS the Monster Hunter franchise has been no longer a series for PlayStation; now it flourishes mainly on Nintendo platforms in Japan, and recently in the West.
Obviously, whether the announcement of Yakuza 1 & 2 HD for Wii U means a similar platform transition process depends on if the next Yakuza is Nintendo platform exclusive. I think it is not unlikely. At the end of Sega Direct Iwata said to Nagoshi, "I hope I'll see you in Iwata Asks next time." The Iwata Asks interviews cover only Nintendo platform exclusive titles (the only exception is E.X. Troopers, which is on 3DS and PS3, and is a new IP, not a franchise long established on PS platforms). "Yes, I'm looking forward to it," replied Nagoshi.