Animal Crossing on 3DS looks like it won't come out in North America and Europe until way more than six months after the Japan release.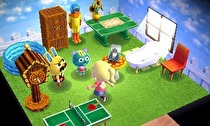 Yesterday was an exciting day. We found out about a sequel to Pushmo/Pullblox called Crashmo/Fallblox. Level-5 announced they are bringing some of the Guild 01 games to the 3DS eShop in North America and Europe. European Nintendo fans stepped back from the edge of the cliff as they found out that Paper Mario: Sticker Star is coming out in 2012. Even with how exciting today was, I came away from it worried about one game.
In today's European Nintendo Direct, Luigi's Mansion: Dark Moon and Fire Emblem: Awakening were given release windows of Q1 2013 and Q2 2013 respectively. Conspicuously, Animal Crossing was not mentioned. The last we heard about it in a European context was a nebulous 2013 release, and the last time Nintendo of America spoke of it, they labeled it as a "first half of 2013" release. In Japan, Animal Crossing is coming out on November 8, 2012.
In North America, Luigi's Mansion: Dark Moon is set for a Q1 2013 release, much like the European version. Fire Emblem: Awakening is slated for a 2013 release, which is less specific than the Q2 2013 release in Europe.
The fact that Animal Crossing wasn't mentioned in today's forward-looking segment of the European Nintendo Direct doesn't damn it to a later release, but it sure doesn't look promising.
But still, Animal Crossing fans can salivate over the Japanese release, which is about a month away, and features all sorts of zany StreetPass and new features.