Jon wonders if Operation Rainfall could mark a turn in Nintendo's fortunes.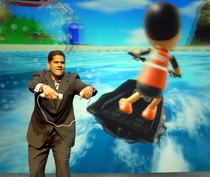 Malcolm Gladwell's The Tipping Point is a book that I've had sitting around for a while, and recently I've decided to finish it off (yes, even my Kindle has a backlog). It attempts to answer the question of what contributes to certain products or behaviors going "viral", and breaks down the elements that Gladwell believes are involved in that process. It contains a fascinating account of the rise and fall of Airwalk, the skateboarding shoe company that exploded in popularity in the mid-90's, that is especially relevant given recent events involving Nintendo and its relationship with its legions of fans.
Airwalk was born of the skateboarding culture of Southern California, developing a strong street following with its original shoe designs and strong connection with skate culture. Thanks to savvy advertising and a concerted grass-roots effort to get "cool" people (rock bands, high-profile skateboarders, etc.) to wear their gear, the mainstream eventually took notice and "Airwalks" soon populated every mall in the country to meet a suddenly explosive demand.
However, Airwalk made a fatal mistake just as it was hitting its peak. It had originally segmented its business such that boutique skate shops received high-end, exclusive shoes, while mall stores received more generic designs. The company decided that it made more sense to provide one line of shoes across the board, moving away from the extra effort required to cater to hardcore skateboarders. This made the Airwalk brand extremely uncool to the trendsetting kids that frequented the underground shops, because they soon realized that the shoes they were buying were no different than what MTV Brad could buy at the mall. Airwalk unwittingly abandoned the very people that made them cool by shifting their philosophy to cater to the mainstream. Former company president Lee Smith put it best: "Cool brands treat people well, and we didn't….we had this little jewel of a brand, and little by little we sold that off into the mainstream".
I found Gladwell's account of these events to be eerily reminiscent of Nintendo of America's apparent refusal to localize anticipated Wii games Xenoblade, The Last Story, and Pandora's Tower for the North American market. This decision – alluded to at June's Electronic Entertainment Expo and recently confirmed by a terse response on Nintendo's Facebook page - has led to a very public outcry from Nintendo fans in North America. Operation Rainfall, a grass-roots letter-writing campaign intended to spur NTSC localization of these titles, has picked up steam on Facebook and become a rallying point for disgruntled Nintendo fans who simply want more "hardcore" games to play in the twilight of their favorite console's life cycle.
It's not difficult to see the parallels between the trials of Airwalk and Nintendo's current situation. Swap skate shoes with video games and skateboarders with gamers and the two tales become strikingly similar. Make no mistake: Nintendo has built its brand on its cachet with hardcore gaming enthusiasts. For the most part, these are not the people that have bought Mario and Zelda games, although there is some overlap; these are primarily the people playing Pikmin, F-Zero, Star Fox, Kirby, and Smash Bros. With their 2006 introduction of the Wii console and its subsequent mainstream explosion (thanks to general-audience titles like Wii Sports, Wii Fit, and Mario Kart Wii), Nintendo caught serious flak for supposedly abandoning the hardcore and catering exclusively to "lapsed" gamers. However, those following Nintendo more closely knew that this wasn't the case, as there was still a steady stream of core titles like Metroid Prime 3, Super Smash Bros. Brawl, Super Paper Mario, and Sin and Punishment 2.
For reasons unknown – but probably having a lot to do with a shift of development resources towards the 2012 rollout of their next console, Wii U – this steady stream of core content soon turned into a trickle, and then dried up entirely. As of this writing there isn't a whole lot for core Wii gamers to look forward to in 2011 outside of the next Zelda game and Rhythm Heaven, a quirky title that in itself resides in a grey area between hardcore and general audience. This fact alone makes purely "core" titles like Xenoblade, The Last Story, and Pandora's Tower even more anticipated by North American Wii owners, and the sting of their absence in the region even more pronounced. What's worse (and more baffling) is that all three games are being released with an English translation in PAL territories, including Europe and Australia. There is even a special edition of Xenoblade being released that includes a red Classic Controller, exactly the kind of exclusive package that core gamers covet.
Meanwhile, Nintendo is trumpeting how its next console is aimed squarely at reclaiming the core gamers it has lost to Sony and Microsoft. Yet it seems to be snubbing the core gamers it already has on board, shaking the confidence of its faithful that Nintendo is looking out for them in addition to its newfound "casual" audience. At the same time, it is reinforcing the claims of its detractors – and with Nintendo's success, there are many – that Nintendo really only cares about the most mainstream of mainstream gamers, begrudgingly trotting out core games every once in a while to keep its hardcore fans quiet. Like Airwalk before it, Nintendo is failing to realize that its fanbase is far from homogeneous. It likes to say it makes games for everyone, but at the same time it must understand that not all gamers want games for everyone. Those most loyal to a brand want to feel special, they want to be catered to, and they want to feel like their favorite company is making something "just for them". If this doesn't happen, a brand's greatest supporters can become its greatest critics, and over time may abandon it entirely for what they perceive to be greener pastures.
This is not to say that Nintendo's refusal to bring these games to North America would doom them as a brand. The Nintendo brand remains one of the strongest and most recognizable on the planet, right up there with Coca-Cola and Nike. However, the potential damage of this fiasco cannot be understated. With the company already fighting an uphill battle to win back the hearts and minds of the hardcore who have migrated to other consoles, it needs to foster all the goodwill it can amongst its evangelists. In this context, the prudence of this decision is particularly questionable, and Nintendo's failure to extend an olive branch to its loyalists can't help but make one wonder what the future holds.
Cool brands treat people well. If Nintendo doesn't learn this lesson, they may soon face a tipping point markedly different from the one they experienced with Wii so many years ago.
And that's a game nobody wants to play.