In a rush to get awards out on time, we forgot an important component and you're the beneficiary.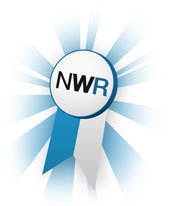 It's Awards season, and no I don't mean March. This year Nintendo World Report is giving out our awards this year. Everything is on track and we're looking forward to shine the spotlight on a deserving batch of titles.
There's one thing we're missing: a logo. What good is an award without an award?

Our old logo is a bit explosive (see right).

What we need is a new logo for our awards, and that's where our readers come in. We want you to design our new awards logo.

It needs to fit the following criteria:

No larger than 200 pixels by 200 pixels

Incorporate the NWR color scheme ("NWR Blue" is #2399cb)

Incorporate the NWR logo (either the entire site name or the initials), and the site's name

Look awesome
Of course, there's a prize for the winner (this is to be determined, but trust us, we have a lot of cool swag lying around).

Send your entries to contest(at)nintendoworldreport.com
We're on a tight schedule, so the cut-off is December 27.