Hop online, shoot some friends, and win some prizes.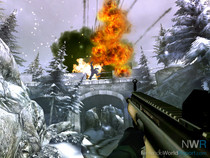 On February 5, join Nintendo World Report staff members, forum members, and other randoms to play Activision and Eurocom's Wii re-imagining, GoldenEye 007.
During the night, we'll be giving numerous prizes, including copies of GoldenEye 007 on DS, copies of Blood Stone on DS, and GoldenEye t-shirts.
If you plan to join, add your Friend Code into the Talkback thread below, and then add every other Friend Code there. Once we get all that number stuff out of the way, playing GoldenEye online should be a snap!
Check back closer to the day for more details on exactly when the event will start and how we'll be giving away the swag.
UPDATE: The massacre will start around 7 p.m. EST. Naturally, you can play whenever you want, but if you want to get prizes and such, start playing around 7 p.m.
Prizes available include:
Two copies of GoldenEye 007 (DS)
Two copies of Blood Stone (DS)
One GoldenEye t-shirt (the Oddjob Cheater one)