Show off your creativity and win a doll of the star of Super Scribblenauts.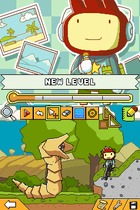 To celebrate Super Scribblenauts, we're teaming up with Warner Bros. and 5th Cell to host a contest to give away a limited edition Maxwell vinyl doll, complete with notepad and pencil.
All you have to do to enter is e-mail a solution for the following puzzle, which is also represented by the screen to your right: Help Maxwell get past the giant saw-toothed sand worm! What items would he use, and how? Be creative!

Send your solution, as well as your name and mailing address here.

You have until November 24 at 9 p.m. PDT to send in your responses. After that, the NWR staff will judge the entries over the Thanksgiving weekend, and announce the winner soon after.
Note: If your solution is deemed inappropriate, it will most likely be discarded since, for the most part, we're a family site.