2014 looks a little bit brighter with that big ape in it.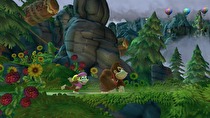 I wish I could say I was surprised by the delay of Donkey Kong Country: Tropical Freeze. Back at E3 2013, I don't think I doubted that Retro Studios would deliver the game on time, but once it swapped spots from November to December with Super Mario 3D World, I began to have doubts. Those doubts were realized when Satoru Iwata asked us all to "please understand" that Donkey Kong Country: Tropical Freeze needed more development time. Now, the potential 2013 Wii U hit is coming out in February 2014.
I don't think it's a bad idea, though. While I might be in the minority, I think Nintendo's holiday Wii U lineup is still solid without it. Maybe it's not in the way the hardcore want it to be, with Marios, Zeldas, and Metroids coming out every orifice, but it's still good. Discounting the early digital release of Wind Waker HD, here's the rest of the year for Wii U on Nintendo platforms:
October 4 - The Legend of Zelda: The Wind Waker HD (retail)
October 25 - Wii Party U
November 1 - Wii Fit U (digital)
November 8 - Wii Sports Club (bowling/tennis)
November 22 - Super Mario 3D World
December 13 - Wii Fit U (retail)
To me, that's a good lineup that hits a variety of demographics. While it would be stronger with Donkey Kong in December, I don't think that one game will make a difference this holiday season. In my eyes, if Nintendo's boned with the Wii U this holiday, they'll be equally boned whether or not they have two games in December or one.
Where the Donkey Kong delay will likely benefit Nintendo is that it gives them a (hopefully) guaranteed slam dunk for early 2014. Remember last year? We cried and cried about how there wasn't a new Wii U retail release for three months. We complained that only two Nintendo-published titles hit in the first half of the year. Maybe just maybe, the Donkey Kong delay is a strategic one to give them a marquee game for the early months of 2014. After all, we don't know of any other games that are guaranteed to be there and most Nintendo games, especially on Wii U, have a habit of slipping when they're not mentioned.
2014 will likely contain Donkey Kong Country: Tropical Freeze, Mario Kart 8, Bayonetta 2, X, Smash Bros., Yarn Yoshi, and more. Outside of DKC and Mario Kart, the latter a spring release as of E3 2013, we have no windows for the others. It's probable none of those will be ready for early 2014. So ask yourself, which 2014 lineup looks better: the one with Mario Kart in March/April, or the one with Donkey Kong in February and Mario Kart in April? Especially with the lull that will strike the PlayStation 4 and Xbox One post-launch, holding back a trump card for 2014 might not be an awful plan.
So chin up, Dixie Kong fans, this delay is naturally a bummer, but Tropical Freeze will come out soon enough. Remember the good ol' Miyamoto quote: "A delayed game is eventually good; a bad game is bad forever."