Do we really have to pay that much more for a re-release?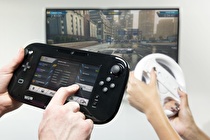 EA, can you explain this to me? ''Need for Speed Most Wanted for Wii U will be available March 19 in North America for $59.99 and March 21 in Europe for €69.99.'' If you are unaware, I am not here to bash the port of the game. The team at Criterion clearly cares about the Wii U version and I have nothing against them. In fact, I love their games and find it fantastic that they put this much time on a Wii U version.
However, EA, how can you explain a price of €69.99? Compared to the American price, we are being offered a very bad deal, and this is honestly not what I was hoping for. The PlayStation 3 and Xbox 360 versions already retail here new for roughly €39.99, and even that is bitter pill to swallow. Moreover, the game launched on those systems at €59.99, so you are now asking for an additional 10 bucks out of our wallets. I am sure the game can be found for a lower price if one looks around enough, but the suggested retail price is out of proportion with what we have come to expect.
How is this justified? You said that you were open to the idea of charging consumers more for next generation games. One thing should be kept in mind, though: many don't even consider the Wii U to be part of the new console generation. Furthermore, you made many promises at E3 2011, none of which have truly come to fruition. You released an enhanced version of Mass Effect 3 and left Wii U owners without the major trilogy release. We got less interesting versions of FIFA and Madden with, for example, no access the Ultimate Team portions of the former.
Finally, when a game truly became an interesting deal for Nintendo lovers, you had to screw Europe over with your pricing. After that, do you really think many people will bother buying it? Has it not occurred to you that you will hurt your sales on the system? You can complain all you want, but without the proper support in place, you can only blame yourself. Granted, I might still pick it up and enjoy it. However, others might prefer to purchase Monster Hunter or LEGO City Undercover this March.
I am going to stick to my word and support Criterion with the same love that they have given us. Sadly, EA, you don't seem to want to embrace our love for the game. With a better pricing structure, this could have been a surprise hit on the system and maybe gotten more people intrigued by the Wii U GamePad.
If a company really wants to support the Wii U, they should let their games be proof of that. This is a case of a publisher stopping progress in its tracks. For me, it is a saddening affair.